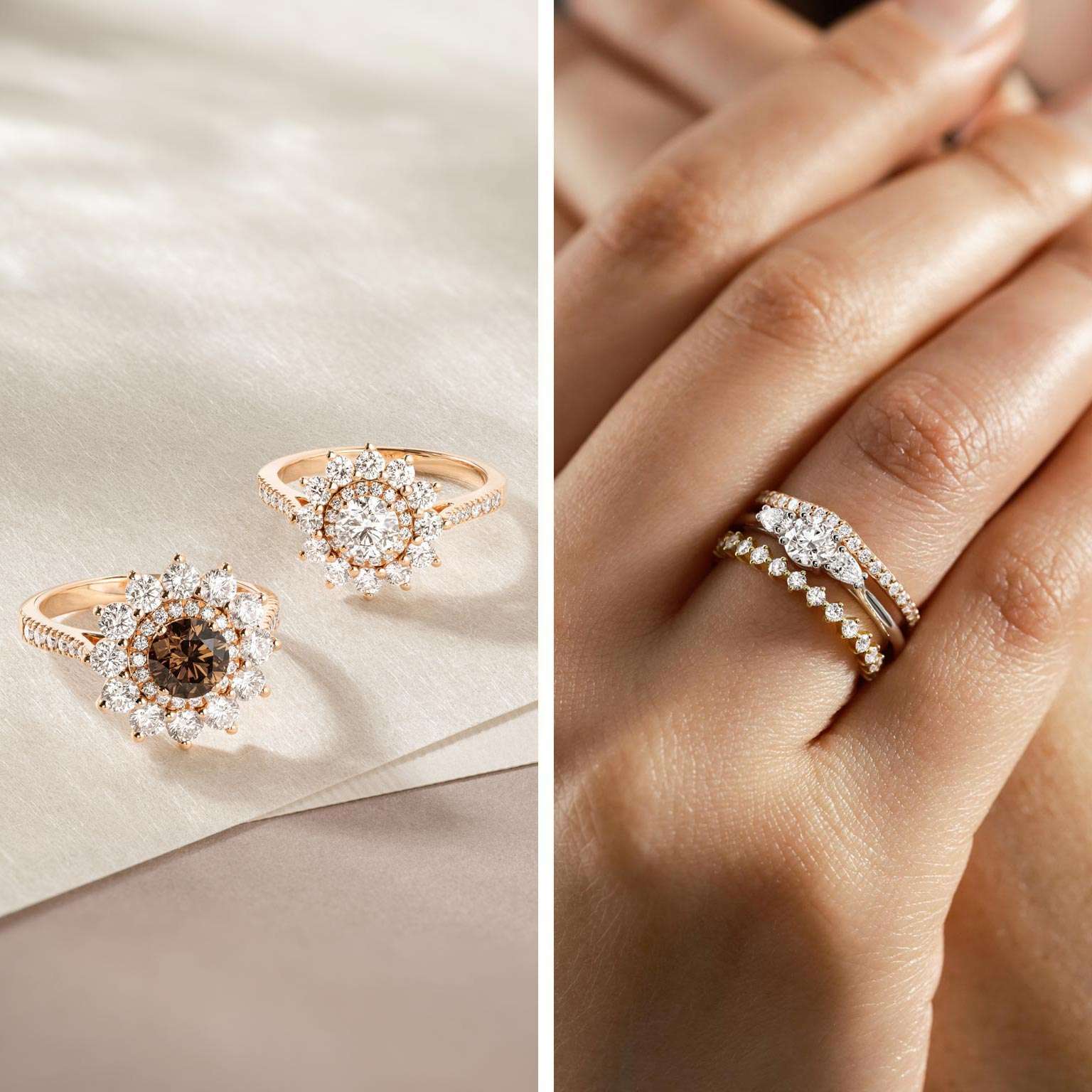 Engagement rings
An engagement ring is a very special object.
It is the reflection of your love, of your relationship. At Gemmyo, you will choose the stone and the metal of your jewel in order to create one that reflects your image. Your engagement ring will then be cast, set and polished to order, for you, in our workshops, all located in France.
Solitaires
The solitaire is probably the most traditional form of engagement ring. The setting magnifies the center stone, especially when it comes to diamant. With four or six prongs, the solitaire keeps a sleek and elegant line. Solitaires by Gemmyo are suitable for women who are looking for subtle elegance or would prefer to wear classic, timeless jewelry.
see all solitaires
Pavé solitaires
Close to the solitaire, the pavé solitaire features a ring set with diamonds. The metal almost entirely disappears under the shine of the pavé stones. The pavé solitaire by Gemmyo will please those who like to combine the purity of the solitaire with a touch of sophistication.
see all pavé solitaires
Halo solitaires
The halo solitaire has a center stone encircled by a paving of diamonds. Visually, the effect is striking: the stone appears larger and its shine is increased tenfold. If the ring is also pavé, the jewel really sparkles... Halo solitaires by Gemmyo are particularly appreciated by women who want an engagement ring that does not go unnoticed!
see all halo solitaires
" There is no random quality control at Gemmyo; each piece undergoes a systematic double control, one by the workshop and the other by our team of specialists just before being placed in the jewelry case. "
Three-stone solitaires
Vintage inspired, this type of solitaire is accompanied by a few gems on either side of the center stone. The shine and visual impression are halfway between the solitaire and the pavé solitaire. A three-stone solitaire by Gemmyo will be an excellent choice for those who dream of a vintage look or who hesitate between pavé and pavé solitaires.
see all three-stone solitaires
Unique rings
Curved, scrolled, chiseled, asymmetrical... These rings are not shaped like a traditional solitaire and depart from the great classics of jewelry. From a touch of originality to pure exquisite creation, these engagement rings by Gemmyo will suit women who are looking to wear a piece that they are not likely to find on a friend's finger.
see all unique rings
" Gemmyo is one of the very few young jewelry brands to have been invited to join the UFBJOP, the French Union of Jewelry, Goldsmiths, Stones and Pearls, the reference federation in France and in the world for the jewelry world. "
No decision is irreversible
Choosing an engagement ring is undoubtedly one of the most difficult decisions you'll ever make, and it's natural to be afraid of making a mistake.
That's why we've put together our valuable advice in our how to pick an engagement ring guide to help you find the perfect piece of jewelry.
Don't hesitate to consult our guide, you will find all the answers to your questions.
lso, if in doubt, you can always come back to your choice thanks to our Gemmyo guarantees which ensure you:
Free return or exchange
Despite the care you take in choosing your ring, there is always a risk that you will not like it. However, our ambition is for you to be proud and happy with your Gemmyo jewel. That is why we offer you a free return or exchange despite custom manufacturing and the fact that we are not legally bound to do so.
Learn more
Free resizing
If you are not sure which size you should choose, don't worry, we offer you the possibility to make a mistake with a free resizing.
Learn more
And the best guarantee of all is the praise we receive from our customers every day, some of which you will find on the Internet.
The perfect wedding band
The wedding band can affect your choice of engagement ring. Do you want a simple straight wedding band, a curved one, or perhaps a stacked one?
Gemmyo designs wedding bands and engagement rings to match perfectly.
Discover our wedding bands to match your engagement ring.
Discover ours wedding bands