Getting engaged is one of the most important moments in life. In particular, choosing an engagement ring is, without a doubt, one of the most difficult decisions you will ever make. "Will she like it? Is it the right shape? Have I spent enough money on it? Is the jewelry of sufficient quality? How can I be sure I'm not making a mistake?".
These are the questions that many men have asked themselves... and that deserve answers. It therefore seemed vital to us to provide you with a step-by-step method to guide you through this somewhat daunting process.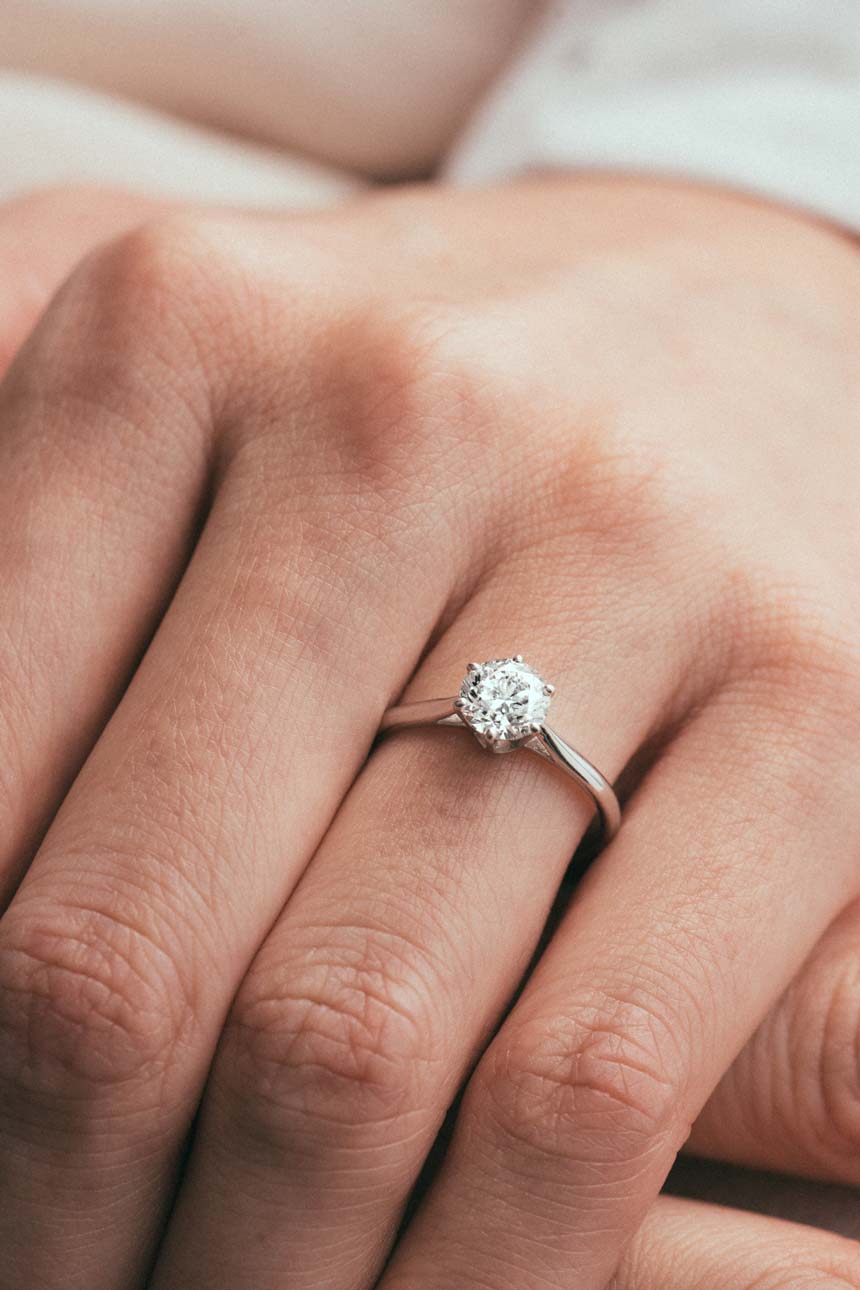 So how can you be sure you made the right choice? Well, at Gemmyo we uphold a variety of practices, from carrying out studies and surveys among the public, to closely reviewing the experiences of thousands of satisfied customers... and more importantly their fiancées, who were amazed by the ring they chose.
" Over the past 9 years, I have accompanied hundreds and thousands of clients in their choice of engagement ring. Assessing the choice by analysing Madame's style, considering her main preferences, respecting the budget... so many elements that have enabled me to develop a method to help you find the ring that will amaze her. "
Pauline Laigneau, Founder
Some basic concepts
Before we get to the heart of the matter, let's start with a few key definitions:
——

What is an engagement ring?

An engagement ring is a piece of jewelry that is given as a symbol of commitment. Nowadays, this piece is often a solitaire (i.e. a ring with a centre stone). This can be in different forms: with a paving of diamonds around the centre stone, on the band, or both, for that matter. But beyond this classic choice, the engagement ring can also have a more original and creative design, far removed from the traditional ring. Regardless, the symbolism and significance remain the same: a piece of jewelry given with love.

Although the rituals surrounding engagement rings have evolved over time, the tradition of giving a piece of jewelry for love has existed since ancient times and has been maintained in many countries, social circles and religions: For instance, in Ancient Rome, a chiselled gold ring was given to the fiancée. In the Middle Ages the ring was adorned with gems and in the 20th century the centrepiece diamond was introduced.

The engagement ring is to be distinguished from the wedding band, which generally takes the form of a round ring, made of precious metal, sometimes set with precious stones. The pure, circular shape of the wedding band symbolises the eternal union between two people who love each other. It is traditionally given on the wedding day.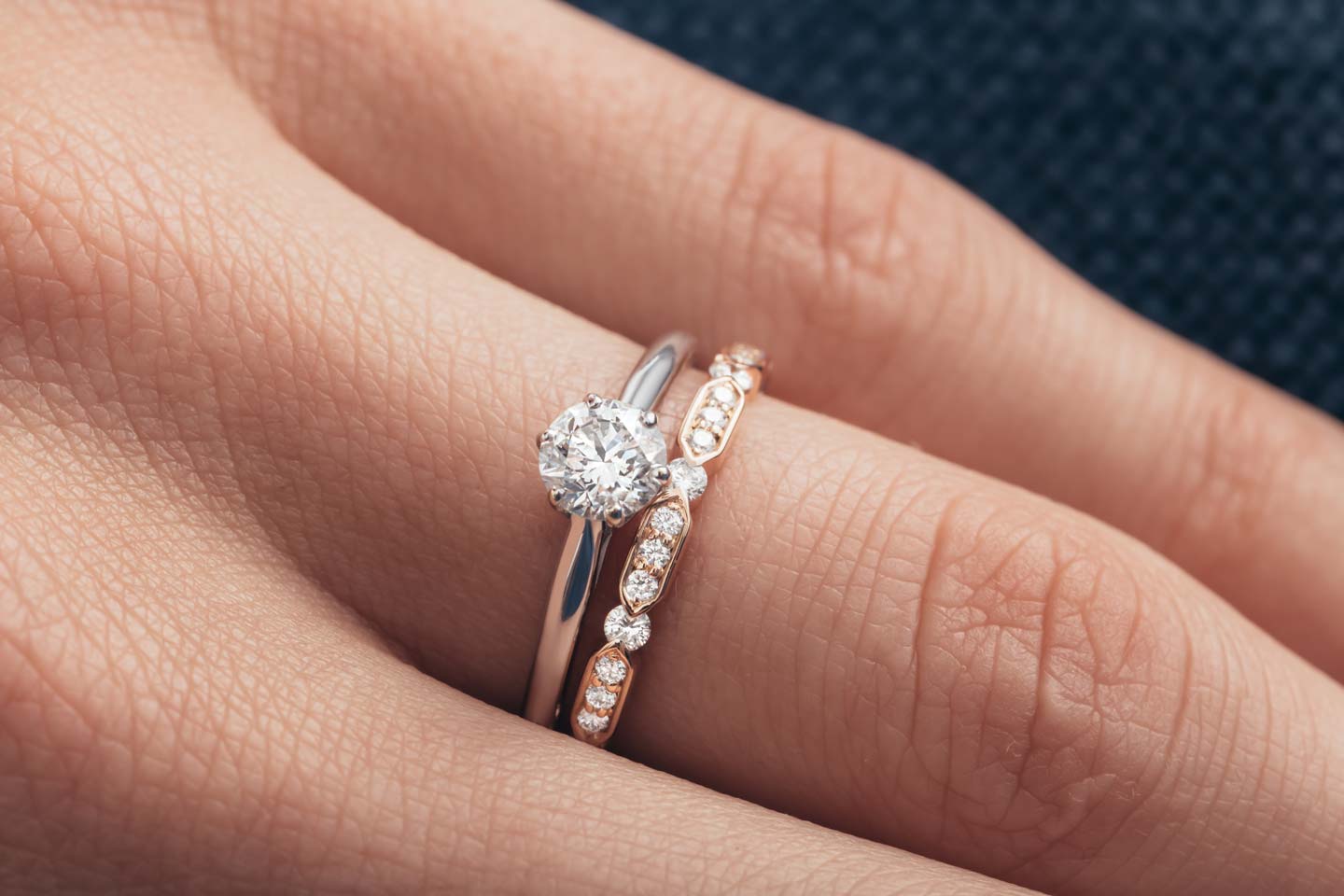 ——

Is it always worn on the same finger as the wedding band? Underneath or above?

Traditionally, both the wedding band and the engagement ring are worn on the left ring finger.Legend has it that these jewels of love are worn on this finger because it is said to be directly connected to the heart by a vein.

We researched a lot about the so-called order regarding how to wear both rings: the engagement ring first, because it comes first chronologically, or the wedding band first, to keep it closer to the heart... Our investigations and experience simply show that there is no rule, and that depending on the designs, comfort, and your own wishes, you can decide to place the wedding band before or after the engagement ring on the ring finger, without worrying!

If the two pieces of jewelry you have chosen cannot be worn on the same finger (e.g. if the engagement ring has a large centre stone comporte une pierre de centre imposante), the wedding band is usually worn on the left hand and the engagement ring on the right.

If it matters a lot to your fiancée to be able to wear both pieces of jewelry on the same finger, you will need to make sure that you choose an engagement ring that allows for this: in general, it is best to choose a straight band and a centre stone that is not too large, or protruding. If in doubt, simply give us a call on 01 42 46 90 89 or make an appointment in one of our boutiques for step-by-step guidance.
——

What is 18 Karat or 750/1000 gold?

750/1000 (75‰) and 18 Karat gold are two terminologies for the same thing: the precious metal most used in jewelry.

Contrary to what one might think, pure gold (also referred to as 24 Karat gold) is not used in jewelry because it would be too soft to be moulded properly.

Therefore, the terminology 75‰ gold - or 18 Karat - refers to a mixture of 75% of fine gold (pure gold), and 25% of other metals such as silver and copper that will harden the alloy. It is this proportion (called the "title" in technical language) that gives its name to the gold 75‰.

There are also other materials used in jewelry: 14 Karat gold and 9 Karat gold. These have a lower proportion of pure gold in the alloy: 37% in the case of 9 Karat gold and 58.5% in the case of 14 Karat gold. They are less expensive, however less durable over time. This explains why 18 Karat gold is the perfect balance between durability and hardness and has been the standard metal in jewelry for decades.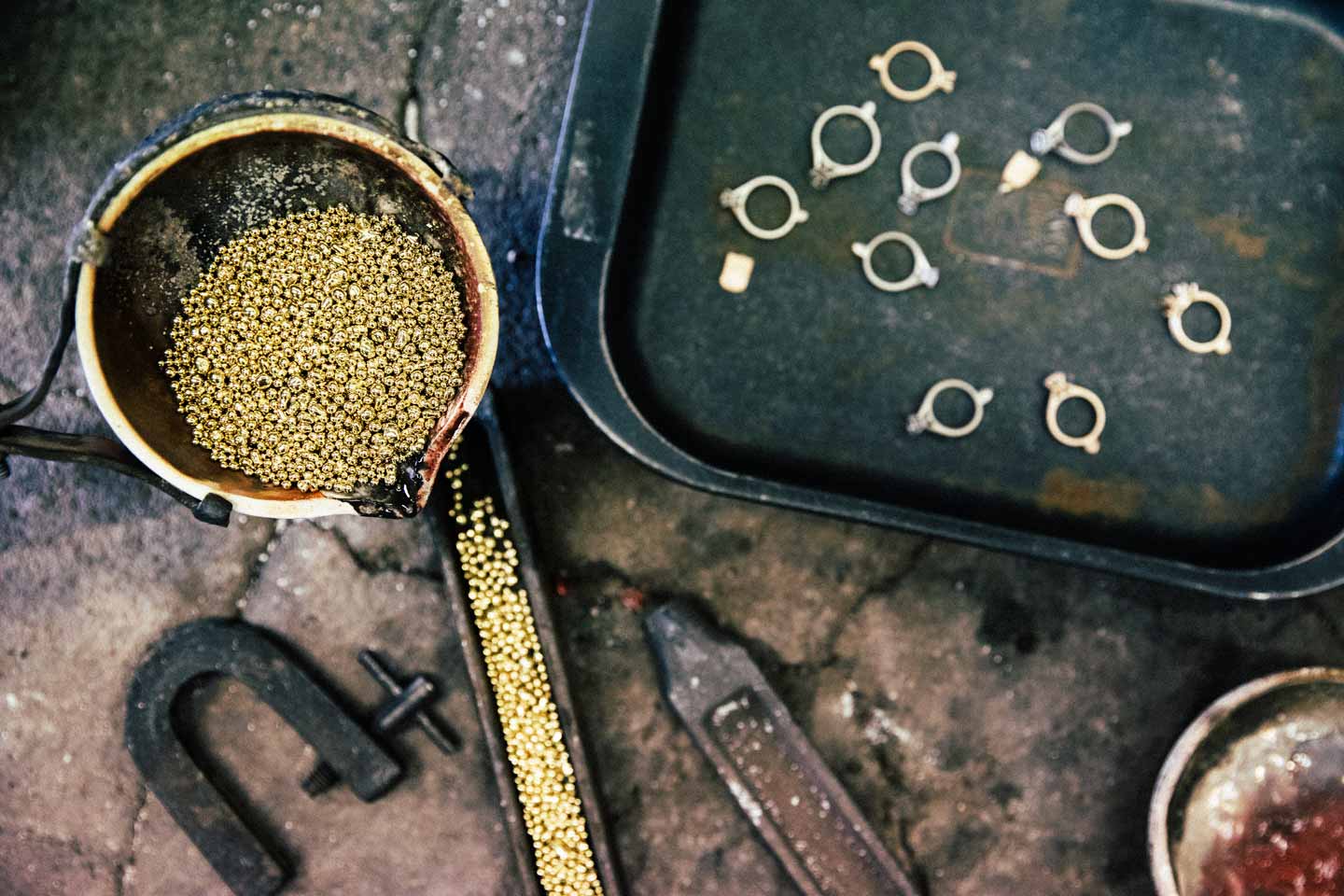 ——

What is a "carat"? Is the carat of a stone the same as the Karat of gold?

The system of karats was invented in the 14th century to simplify the use of gold in trade. It is simply a unit of measurement for the purity of precious metals such as gold.

For stones, the term carat is also used... however, the two concepts must be clearly distinguished. Indeed, for precious stones, carats are a unit of weight, not purity: a one carat diamond weighs one carat, which nowadays is equal to 0,2 grams. This used to be the weight of a carob seed, which was known to have little variation in weight from one seed to another... hence the term 'carat'!

In short, remember: the karat used to describe gold does not have the same meaning as the carat that refers to stones!
——

The setting? What is the setting?

The setting is the most delicate step in the making of a piece of jewelry: It refers to the process of sealing the stone into a piece of precious metal that keeps it in place. To achieve this, the craftsman can use a variety of techniques: the closed setting (the stone is encircled by a metal edge), the claw setting (small metal rods - the claws - hold the stone in place) or the grain setting (tiny balls of metal are inserted between the stones to hold them in place).

This is by far the most technical stage of the manufacturing process: it must be done by hand under a magnifying glass or a microscope. It requires great skill and years of experience. And despite all the care that is taken, it is common for a stone to break during the setting process because a brittle part of the stone has given way under pressure. This is a risk of the trade that the jeweller takes on.

To explain some of the technical terms, the craftsman specialised in the art of setting a stone is called a "setter". When we speak of a setting we refer to the part of the jewelry that holds the stone. Finally, the term "setting" is the action of setting a stone.

Want to know more?

" If you really want to know everything about the technical details of your future engagement ring, find out from the experts! Our team is trained to answer your questions, even the most specific ones. So don't hesitate, ask us! We are available via chat, email, WhatsApp, phone or in boutique in Paris, Brussels, Lyon, Bordeaux, Aix-en-Provence and Toulouse. "
Our 8-step method
To make sure you don't get it wrong!
——

1. Choosing the style

a. Analyse your future wife's style: conventional? striking? plain? trendy?

You have probably never asked yourself the question of your future wife's "style"... however, this question will be very useful in determining the type of engagement ring that will best suit her! To determine your fiancée's style, we recommend you answer the following questions:
What colours does she like to wear? Does she like plain colours (navy blue, black, white) or stronger colours (red, orange, yellow, green)?
In general, does she like to stand out or does she shine with discreet elegance?
Is she always keen to discover the latest designer? Or does she prefer timeless garments?
Does she usually wear precious jewelry? And if so, what is it like? Shiny? Discreet? Sleek? Coloured? Big? Thin?
These questions will give you a set of clues to determine the style of engagement ring. Of course, no woman fits a stereotype and certain characteristics will not match all your fiancée's desires and needs. Just try to figure out which one suits her best... and that will help you determine what type of ring she will prefer.
b. Choose the jewelry that matches her style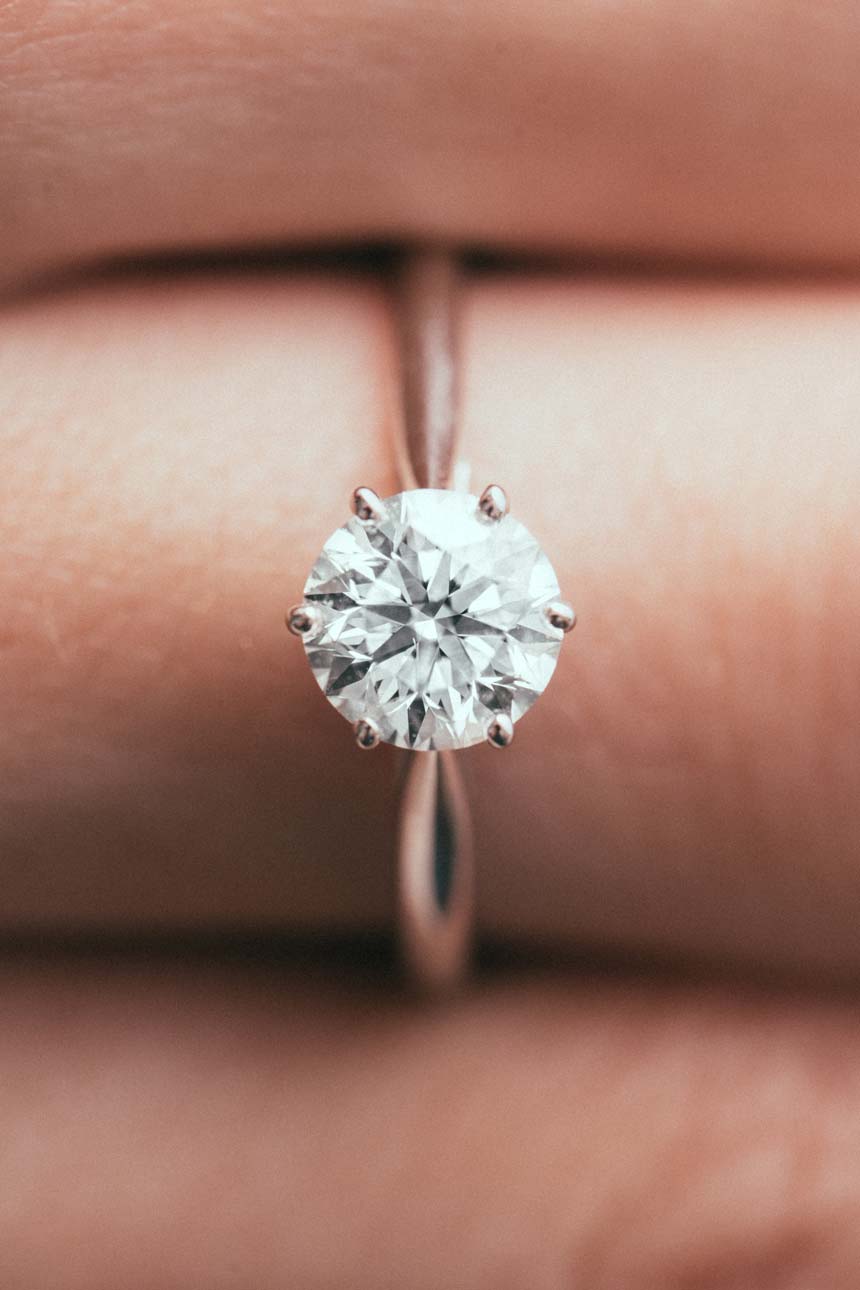 She tends to wear plain, understated colours and generally doesn't like her clothes to be flashy.
She avoids anything bling or "showy" and thinks she is best suited to a discreet style.
She likes clothes and accessories that can be worn in a variety of different circumstances and is always afraid of getting tired of something that is temporarily trendy.
She does not tend to wear precious jewelry, or if she does, it is fine and discreet.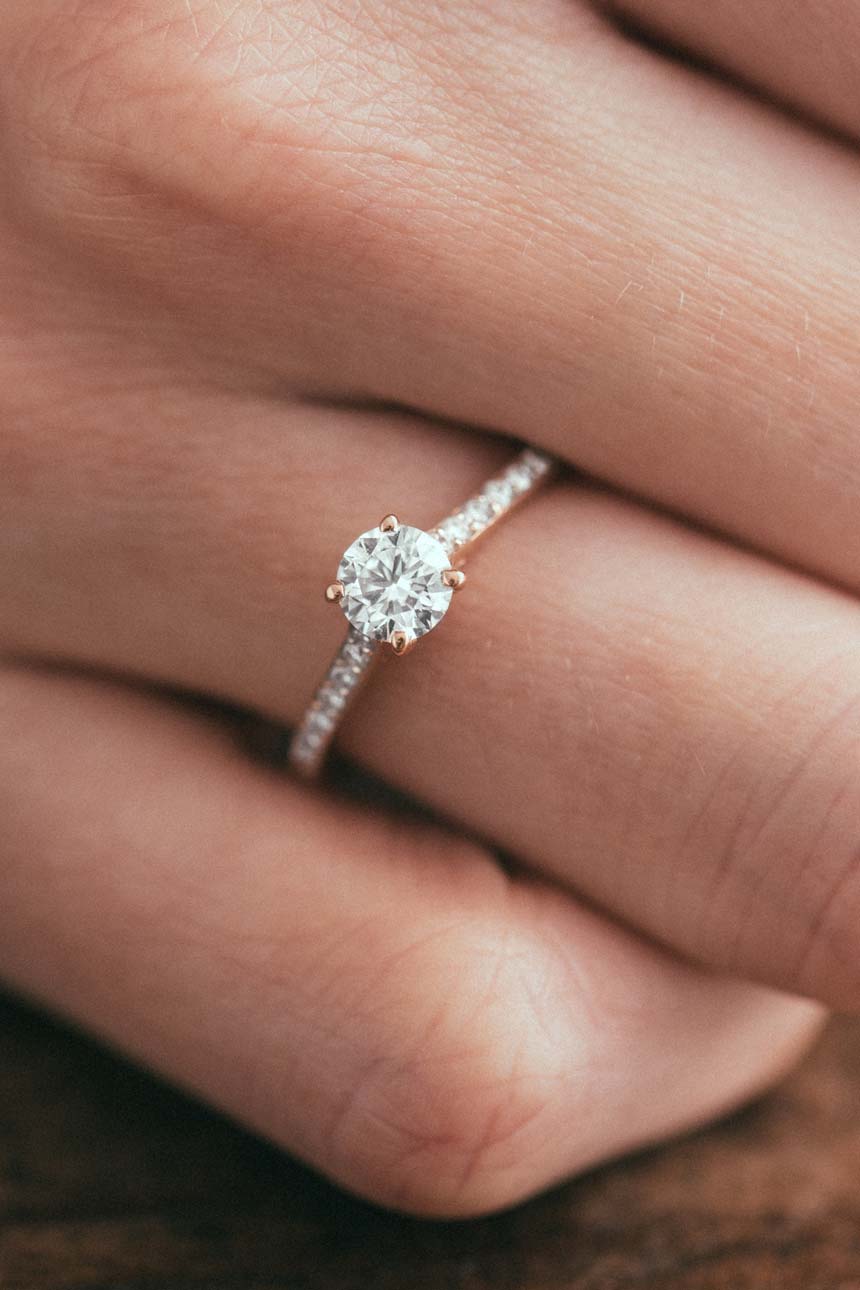 She tends to wear solid colours, places importance on having a neat, tasteful style
For her, elegance is an attitude: she pays attention to her style, but avoids brands that can be seen as bling or "showy-offy!"
She appreciates a touch of sophistication to enhance an outfit (a pretty bag, a cashmere scarf, lipstick, pretty woven sandals etc.).
She wears discreet jewelry: earrings, a diamond pendant, fine bracelets.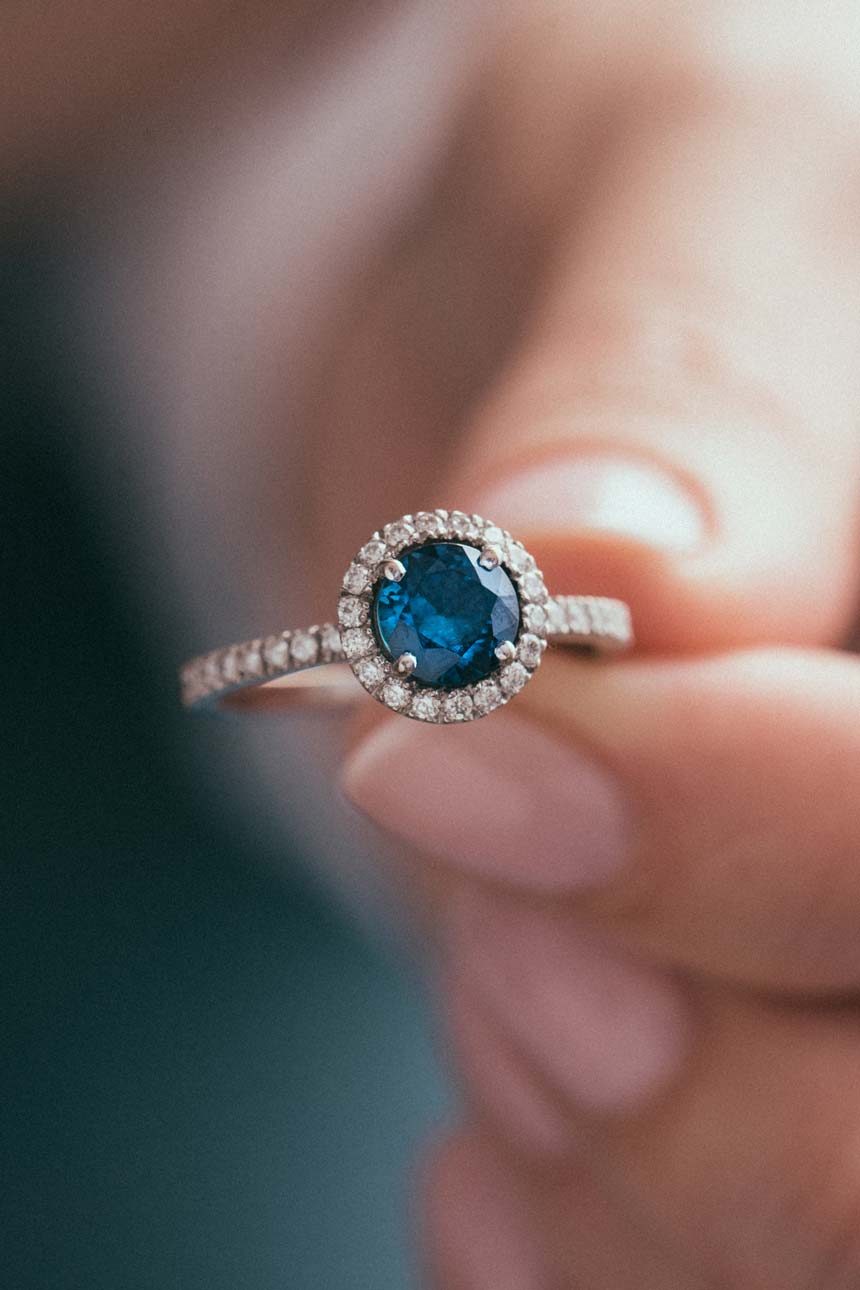 She does not have a favourite colour and is comfortable wearing either discreet or striking colours
She loves to wear new accessories: a watch, the latest bag, designer sunglasses.
She is not flashy, but she is not afraid of being noticed either: whether it is through the numerous pieces of jewelry she is used to wearing, a striking make-up look or, for an evening, a particularly fancy dress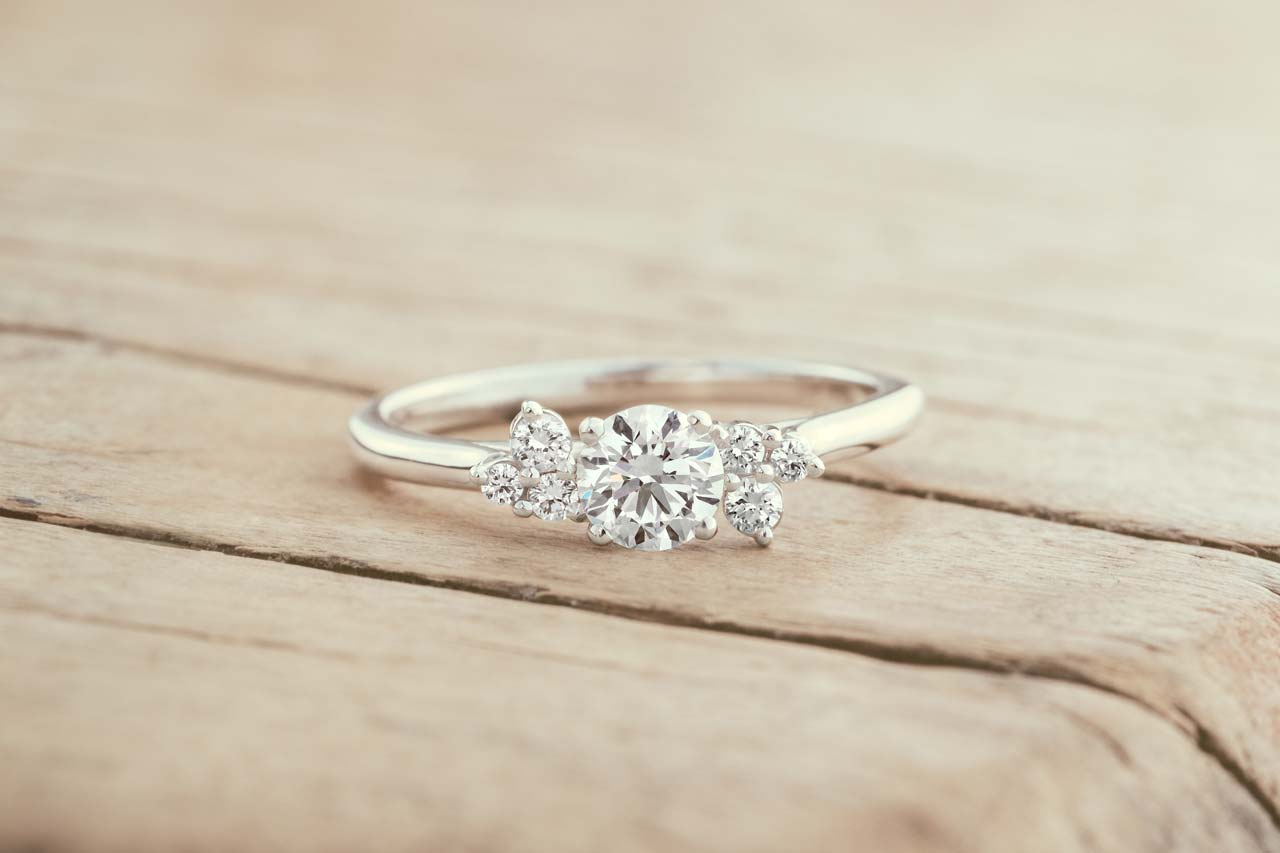 Whether for clothes or accessories, she appreciates a vintage style, and not what her friends tend to wear
She tends to wear plain, discreet colours, but does not hesitate from time to time to enhance her outfit with a stronger colour.
Her friends and family value her for her good taste, which is always right, and which she will have unearthed from designers or antique shops.
Whether it is for clothes or accessories, she is not afraid to think outside the box.
Without necessarily having an ostentatious style, she takes great pleasure in standing out from the crowd, whether it be with a pair of daring shoes, a colourful shawl or - why not - a bright red lip!
She loves beauty and is not afraid to wear precious jewelry.
c. When in doubt...
Never forget that it is better to choose simplicity and good taste over originality. Our advice: if you are lost, opt for a simple solitaire or a pavé ring.
——

2. The question of budget

As we all know, an engagement ring is a valuable object - a precious object - that requires a certain budget to acquire. Nevertheless, focusing exclusively on the budget is not a good idea: it is better to choose a ring that is truly personal, that will truly complement your future wife, rather than a very expensive piece of jewelry that does not suit her at all. On the other hand, opting for a poor quality piece of jewelry that will not reflect the intensity of your feelings poses a risk of appearing thoughtless.

To guide you, here are some key budget principles. You won't mind us being a little more down to earth than usual, these are questions we are often asked!

In the US, the norm is to choose a ring (often a single diamond solitaire) for a budget worth 3 months of a salary.

In the UK and the rest of Europe, things are much freer and the decision really depends on how much one is willing to contribute. However between 1 and 2 months' salary is a good price range, so we suggest aiming for this amount.

One thing to keep in mind is that your future wife will wear her engagement ring for many years. You don't want her to grow tired of a piece of jewelry that no longer meets her needs. If you are unsure, try to imagine if she will still be wearing the ring in 10 years' time.

Finally, a last piece of advice: if you are hesitating between two pieces of jewelry with different budgets, it is better to surprise your fiancée with a piece of jewelry that is slightly "too much", rather than taking the risk of appearing mean. Put yourself in her shoes: if your ring doesn't suit her, it will be easier for her to admit that she doesn't like the style of the ring too much and would like to return or exchange it, rather than tell you that she finds your ring cheap…
——

3. The choice of metal

a. What colour to choose?

The first question to ask yourself concerning the metal is the colour: white, yellow or pink? We recommend two tips to guide you: first of all, think of the jewelry your partner usually wears. You should also know that nowadays, our customers' favourite metal is by far white gold (50%), followed by rose gold (25%), platinum (15%) and finally yellow gold (10%).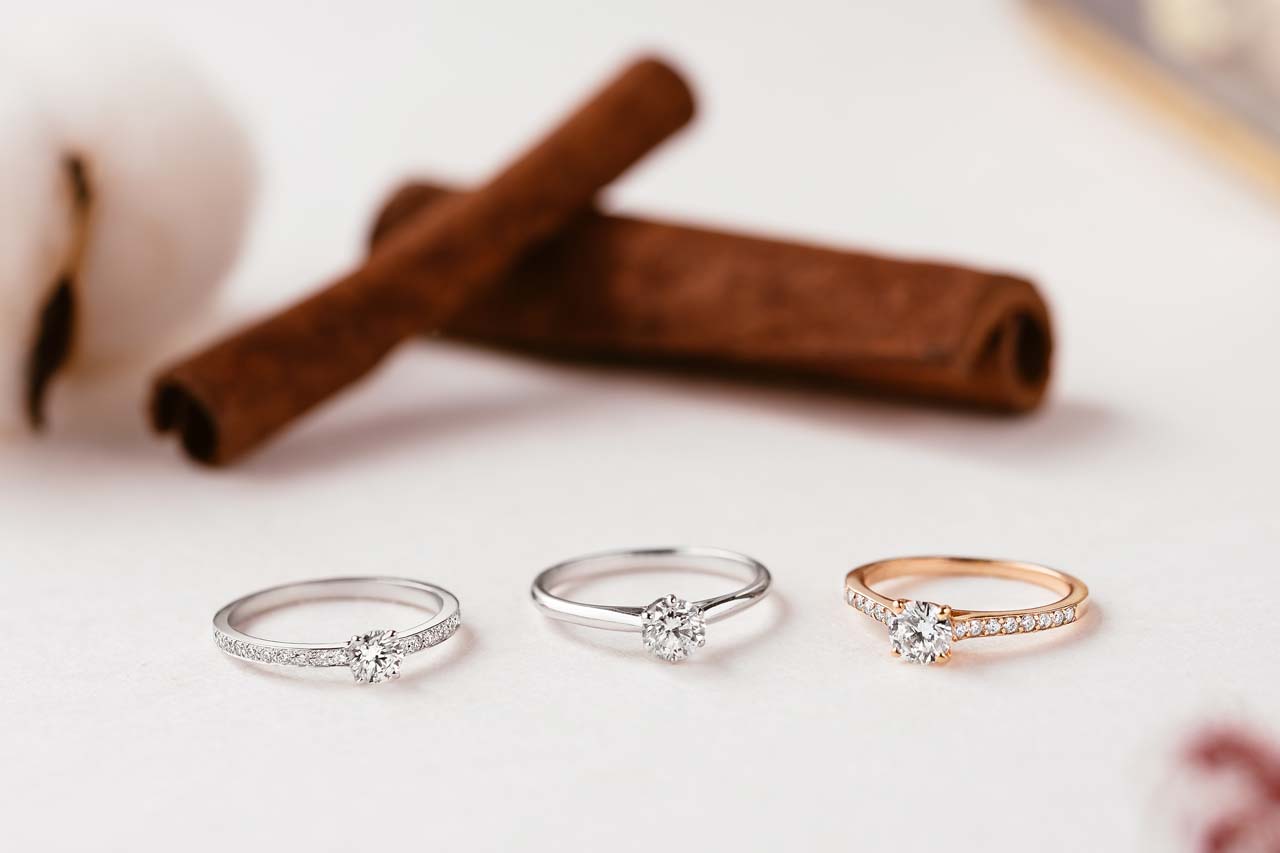 b. White gold in 50% of cases
White gold is undoubtedly the most common metal for an engagement ring. Its neutral colour is easy to wear and will match any colour of stone. 18K gold, whether white or any other colour, is the hardest material used in jewelry and therefore the most resistant to wear over time. The statistics speak for themselves, 50% of our customers choose a white gold engagement ring and are fully satisfied.
Our advice: if you are not sure about all the options, don't take any chances and choose white gold.
Learn more about the characteristics of white gold
c. Rose gold in 25% of cases
Rose gold is the second most popular metal among our customers and has been particularly fashionable in recent years. Its luminous tone makes it a metal that particularly enhances women with light skin tones (light brown, blonde or red hair, green or blue eyes). It also has the advantage of being solid and never losing its beautiful pink colour, which is perfectly stable over time.
Our advice: if you see that your future wife is used to wearing this colour of metal, then choose rose gold!
Read more about the characteristics of rose gold
d. Platinum in 15% of cases
Platinum is very similar to white gold. It is just as easy to wear on a daily basis. However, platinum does not react in the same way to the passage of time. Platinum retains its beautiful white colour indefinitely, whereas white gold tends to develop a patina and yellow slightly over time.
However, platinum is more expensive than white gold to buy, which is probably why it is selected less often than gold for an engagement ring.
Our advice: if you want to give your future wife the very best, then don't hesitate, platinum is for you.
Read more about the characteristics of platinum
e. Yellow gold in 10% of cases
Yellow gold is the historic metal of jewelry. Its sunny makes it the most recognisable material. Today, yellow gold is still popular, even though it has given way to white gold. Yellow gold is particularly attractive to women with dark or tanned skin.
Our advice: if you see that your future wife is used to wearing yellow gold, or that she has a dark or tanned complexion, then choose yellow gold.
Learn more about the characteristics of yellow gold
f. Avoid silver
While silver is a popular material because of its white colour and much lower price, it is much less resistant to wear and tear than gold or platinum. Even if your partner is used to wearing silver for her current jewelry, or says she likes the colour, it can be quite dangerous to choose this metal for an engagement ring.
The jewelry could twist, scratch or even lose a gemstone, as silver is a much more malleable material than gold. If it is not maintained regularly and kept away from moisture, silver tends to turn black.
So our advice for your engagement ring is to avoid silver!
Learn more about the characteristics of silver
g. What quality of gold should I choose?
Beyond the colour, some of you may wonder what purity of gold to choose. Here, the choice is quite simple: if you want a quality piece of jewelry that will stand the test of time, then you should choose 18K or 750/1000 gold (both terms can be used interchangeably), the highest quality of gold used in jewelry.
The type of gold used is identified by the hallmark that you will find on the band of your ring. In the case of 18K gold, the hallmark takes the form of a tiny eagle's head.
In general, we do not recommend 14K or 9K gold as it is less resistant to wear and tear. Platinum is another excellent option that will retain its white colour over time. Here again, the hallmark certifies the purity of the metal. In the case of platinum, this is a small dog's head.
——

4. The choice of stones

a. What colour gemstone to choose?

The stone is another fundamental element in your choice. In addition to the hardness of a stone, you should also consider its colour. Here are the statistics we have been observing at Gemmyo for years: diamonds are by far the most popular stone for an engagement ring (45%), followed by blue sapphire (20%), aquamarine (15%) and finally emerald (5%), tanzanite (5%) or ruby (5%).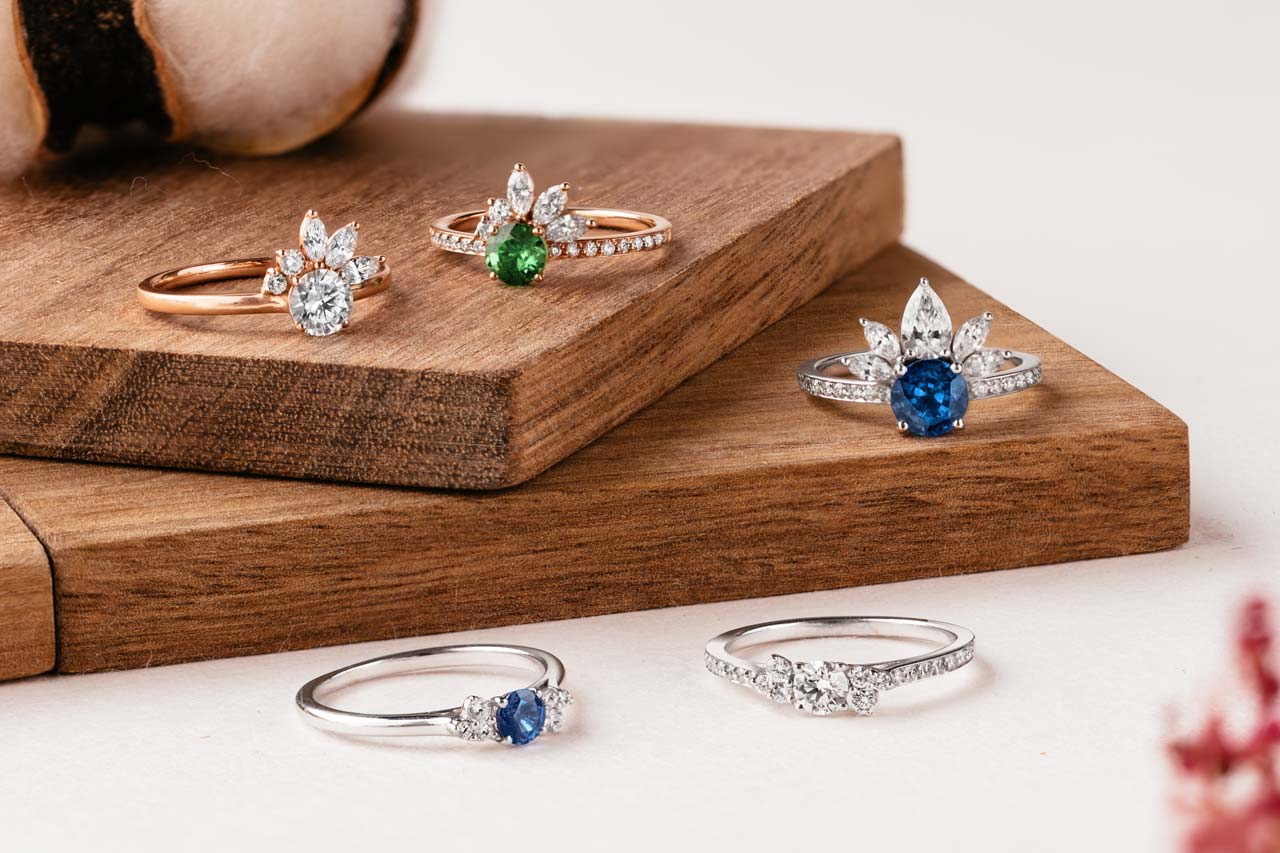 Why this uncontested reign of diamonds? Firstly, because it is the most shiny stone. The shine of a cut diamond simply can't be matched. Secondly, a white diamond has the great advantage that it can be worn with all outfits and is therefore very easy to wear on a daily basis. Finally, the diamond is the hardest, most sought-after, most mythical stone... ask around, and you'll see that it is statistically the favourite gemstone of women. (As Marilyn Monroe told us, "Diamonds are a girl's best friend!")
Sapphire and aquamarine are the other stones that are very popular for an engagement ring. If your wife-to-be has given you any hints that she might prefer one of these stones, her wish is your command!
Our advice: if you are unsure, be aware that the vast majority of women expect to receive a diamond engagement ring. So, unless she has left you a clear message for another gemstone, we advise you to take no chances and choose a centre stone diamond.
b. What quality of diamond?
Have you decided on a diamond? Now you have to determine the quality of the stone. This is the " 4 C ": the method developed by the Gemological Institute of America (GIA) in 1931: Carat, Colour, Cut & Clarity.
To find out more about the characteristics of diamonds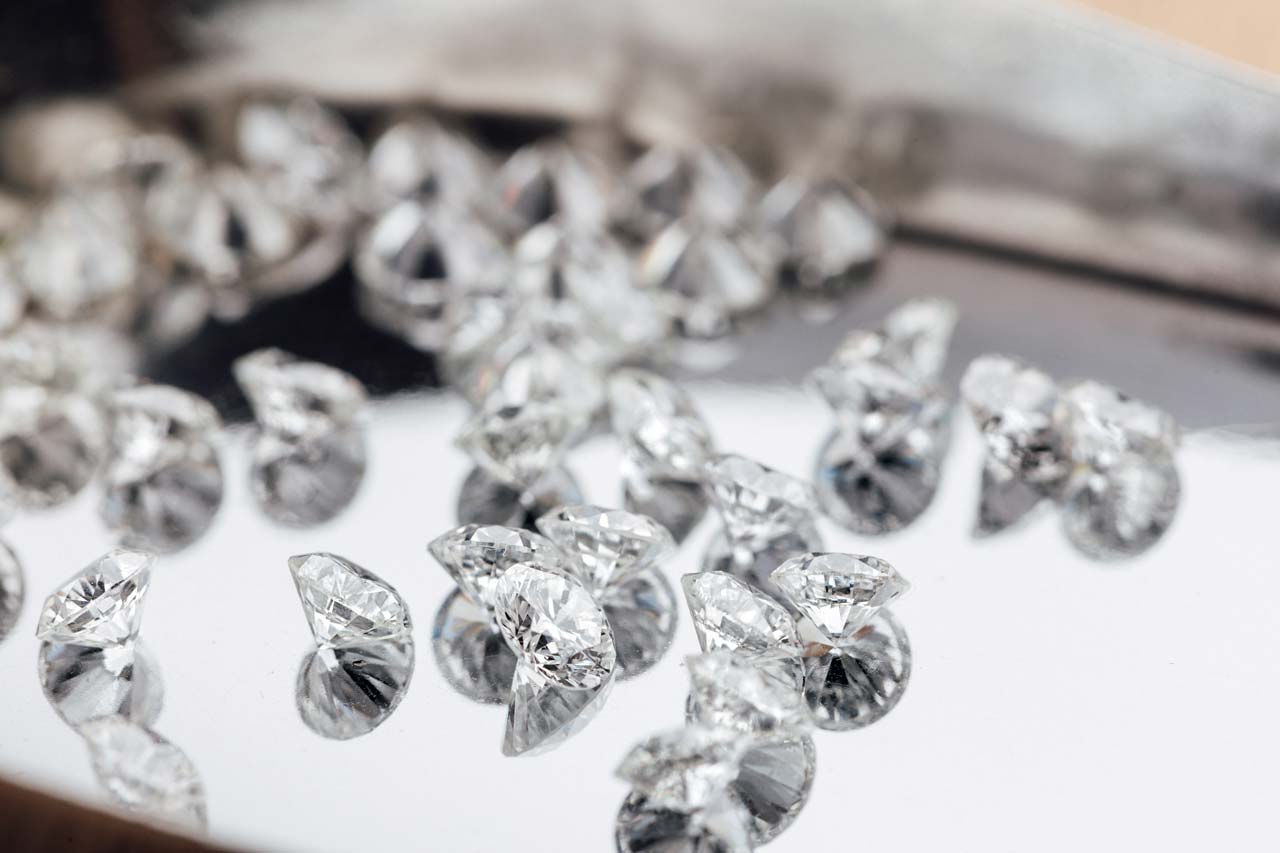 The world of diamonds is complex and one could get lost in technical explanations. More simply, we must consider 2 elements:
Firstly, it is crucial to opt for a high quality diamond (HSI quality and above).This will ensure that the diamond is bright, luminous and pure enough to enhance the ring you have chosen. The 4 C's method allows you to evaluate the quality of the stone with some technical criteria.
On the other hand, it is important to know that diamonds are a highly sought-after stone and that price varies considerably depending on its size, colour and purity.
Thus, choosing a diamond is a delicate between budget, size and quality. Ask yourself what is most important to you: to have the purest diamond possible (even if it means having a smaller stone) or, on the contrary, a larger diamond.
To decide, here are 3 possible options:
Many connoisseurs believe that HSI quality is the best value for money in diamonds. Below this quality, the stone will be significantly less bright and white. We strongly advise against it. Above this, prices are higher, but so is the quality. HSI is a good quality, marketed by most of the big houses, and therefore offers a good "price effect".
GVS quality will give your stone extra whiteness and purity.
The DIF quality is the highest quality of diamond used in jewelry: an exceptional bright white and no visible inclusions, even with a x10 magnifying glass.
Our advice: the GVS quality is the perfect "in-between" between the HSI quality (the most common quality) and the DIF quality, the highest quality available.
Come and see the differences in one of our boutiques, or discuss them with one of our advisors by video appointment. We will be happy to explain this to you in more detail.
Whatever happens, you should know that a centre diamond of more than 0,3 carat must systematically be accompanied by its laboratory certificate. It is in a way the identity card of a stone. This certificate, issued by two independent organisations, the GIA (Gemological Insitute of America) or the Antwerpen HRD (Hoge Raad voor Diamant), is proof of the quality of your diamond. It is essential to ensure the quality of the diamond, and must be kept carefully.
c. A coloured stone?
Coloured stones are rarely accompanied by certificates from independent laboratories (with the exception of a few absolutely exceptional collector's stones). However, the quality criteria are similar to those for diamonds: the intensity of the colour, the purity (transparency of the stone), and the size.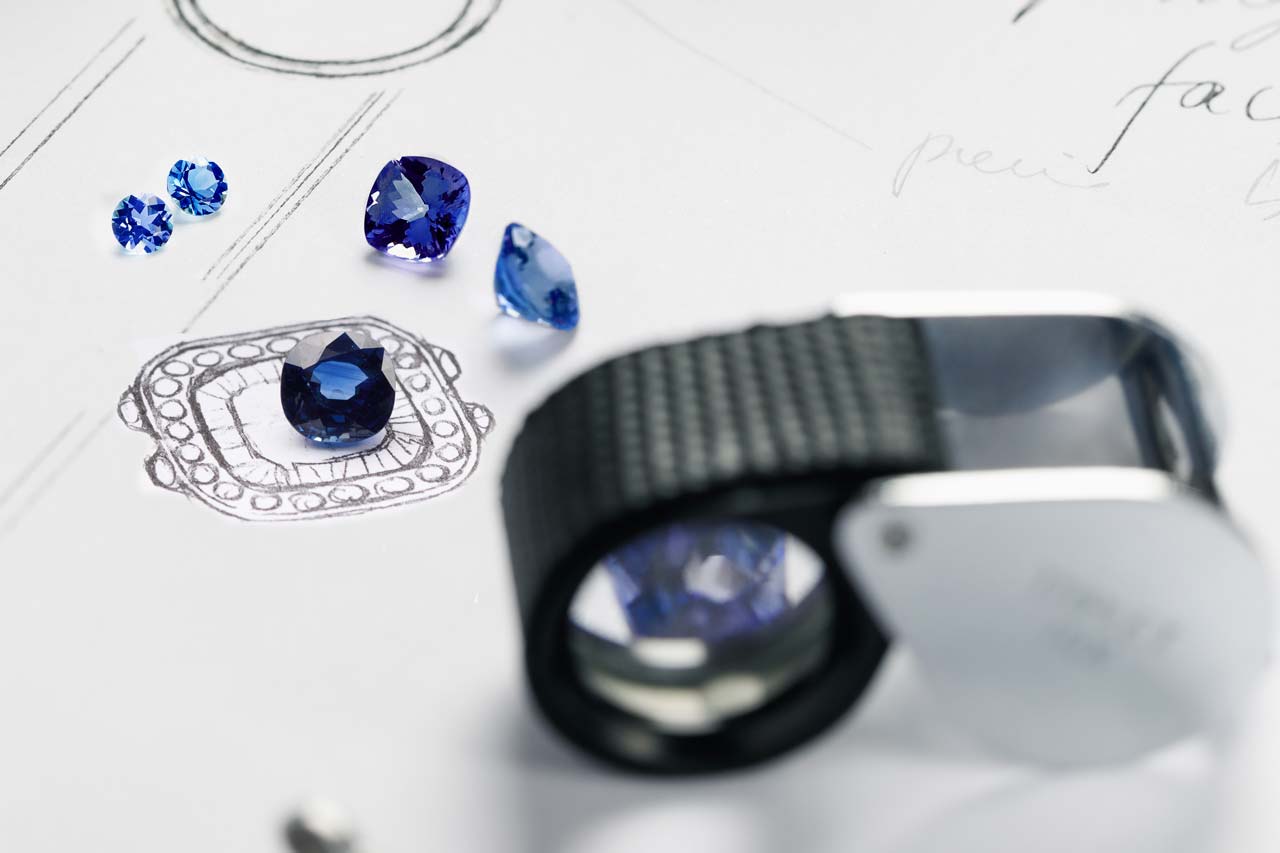 How to recognise a quality stone?
First of all by the intensity of its colour. It must be vibrant, quite intense. If, for example, your aquamarineis too translucent, it may not be of high quality.
The second criterion is purity : except in the case of some emerald and rubies, quality coloured stones are pure to the naked eye. If you detect large impurities in the middle of the stone, it is very likely that the quality is not sufficient.
Finally, regarding the cut or size of the stone: it should simply be harmonious and homogeneous.A round stone should be well rounded, an oval stone well oval and a square stone well square!
Learn more about our gemstones
d. What shape should I choose?
The round is by far the most common for an engagement ring. Known as the "shiny cut" or "diamond cut", it is the one that - as the name suggests - will bring the most sparkle to your stone.
The oval shape is also very popular. It has the advantage of appearing larger than it really is(because it is wide but shallow) and works just as well with coloured stones as with diamonds. It brings a vintage touch to solitaires.
The cushion shape (a square with rounded edges) brings modernity and softness to the ring.This shape is quite difficult to cut and to find, especially for rare coloured stones.
The pear (or drop) shape will appeal to those who want a very feminine jewelry with a touch of originality.
The princess (square) shape is attractive due to its graphic and very regular aspect.
Our advice: if in doubt, or uncertain, don't take any chances and opt for the round shape, which is statistically the most popular for an engagement ring!
——

5. The quality of your jewelry

You have chosen the style, metal and stone for your ring, you are almost there! At this point, all that's left to do is to make sure that your jewelry is of the right quality to be worn for many years. Before we get into that and give you our tips on how to determine the quality of your ring with certainty, let's go over a few principles:
Firstly, while a piece of jewelry is an object that should last a lifetime, it is also a precious object that requires maintenance. In the same way that full grain aniline leather shoes (the best possible quality, for the connoisseurs) need to be routinely pampered so as not to be damaged, precious stone and metal ring deserves your care to keep its shine as it was on the day it was bought. Make sure to follow our advice on ring maintenance.
Secondly, let's debunk some rumours and reveal what is true!:
"Diamonds are unbreakable". This is not true. Diamonds are the hardest stone there is, so they are cratch-proof (by something other than a diamond). However, a diamond can break. If the stone receives a bad or intense shock, it can crack. So be careful to really look after your diamond!
"Gold is eternal". Yes and no. 18K gold is the hardest material used in jewelry, but it isstill a precious metal that is subject to the wear and tear of daily life. It scratches and develops a patina, especially when in contact with other metals, or twisting it. This can happen inadvertently, for example when carrying a heavy shopping bag, and although gold is a very strong metal, it can twist and the gemstone can fall off.
"Platinum is the hardest of all metals". No! latinum is a particularly beautiful and precious metal, but it has the disadvantage of being a little more malleable than 18K gold. It is true that it does not oxidise, it is very pure (95%, compared to 75% for 18K gold), never changes colour and is known to be hypoallergenic, but it can become misshapen if under pressure or scratched! To find out more about platinum, follow our guide.
Now that you've avoided these traps, let's get down to business and talk about the quality of your jewelry!
a. Choosing French manufacturing
One of the basics of ensuring the quality of finish of your jewelry is to understand how it was made. Here, our aim is not to dumb down or devalue the quality of our fellow jewellers, but realistically, although of course some Chinese, Thai or Indian products are of excellent quality, this is not always the case. Choosing a piece of jewelry that is not made in France does not necessarily mean that it is of high quality.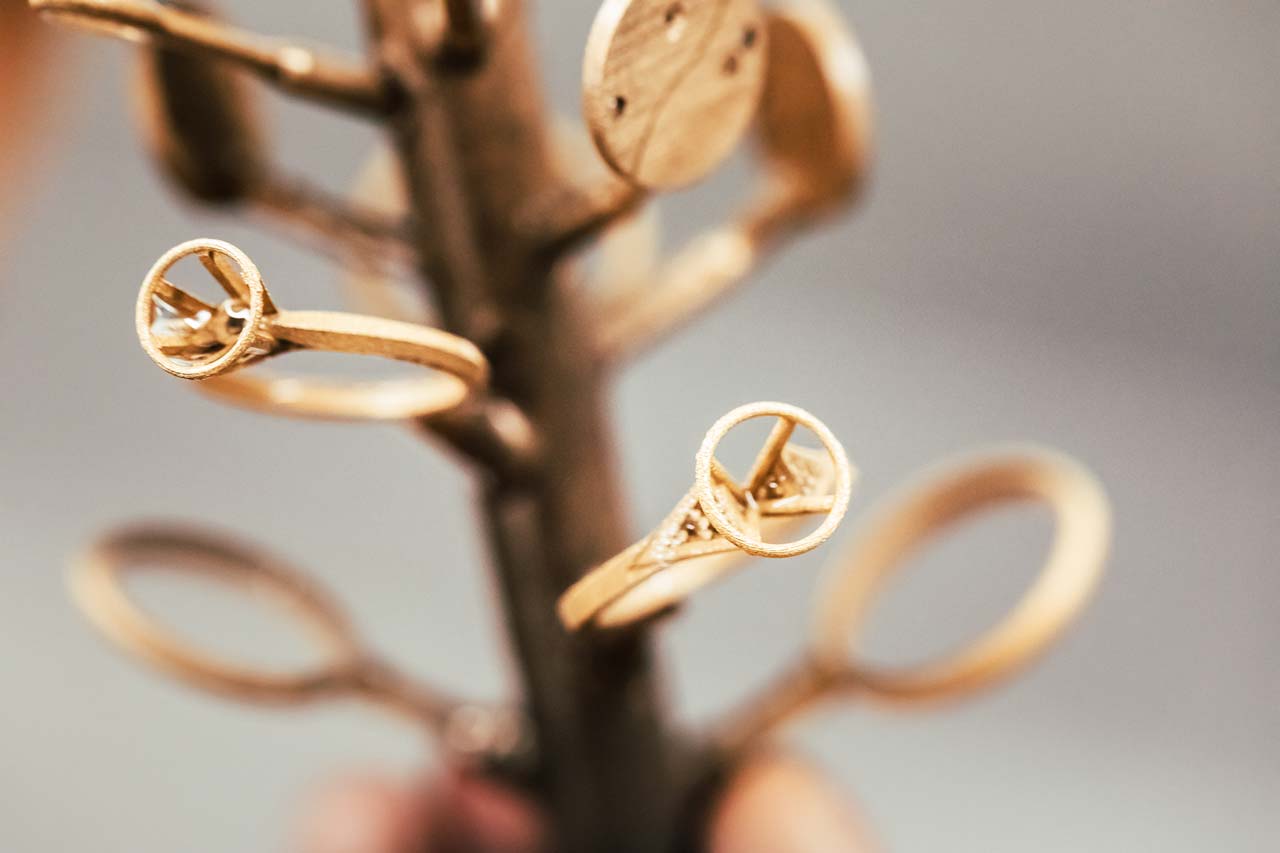 A "Made in France" is nowadays a real guarantee of quality. Indeed, at present, few brands - yes, even the historic, well-renowned jewelry Maisons- choose Made in France because of its cost. The number of French jewelry workshops has diminished greatly over the last 20 years: only the most precise and expert ones have survived the relocation to Asia. In fact, when it comes to jewelry, choosing Made in France is a real guarantee of a quality finish.
b. Making sure your jewelry is really Made in France
There is a simple way to know if your jewelry is really made in France: the diamond-shaped stamp affixed to your piece.
In fact, all precious metal jewelry weighing more than 3g made in France must be hallmarked in order to guarantee the quality of its metal i.e. to prove to the consumer that there is no fraud and that the jewelry you are buying is indeed made of 18K gold, platinum, etc). This hallmark takes the form of a tiny diamond in which a fine design is engraved: an eagle's head in the case of 18K gold and a dog's head in the case of platinum.
This hallmark is usually affixed to the back of the jewelry so as not to deform the piece when the hallmark is applied with a hammer. You will also see another small diamond on your jewel: this time, it is the Master stamp. This certifies that a particular workshop has made your jewel. It is unique for each workshop. A French workshop will always have a diamond-shaped hallmark.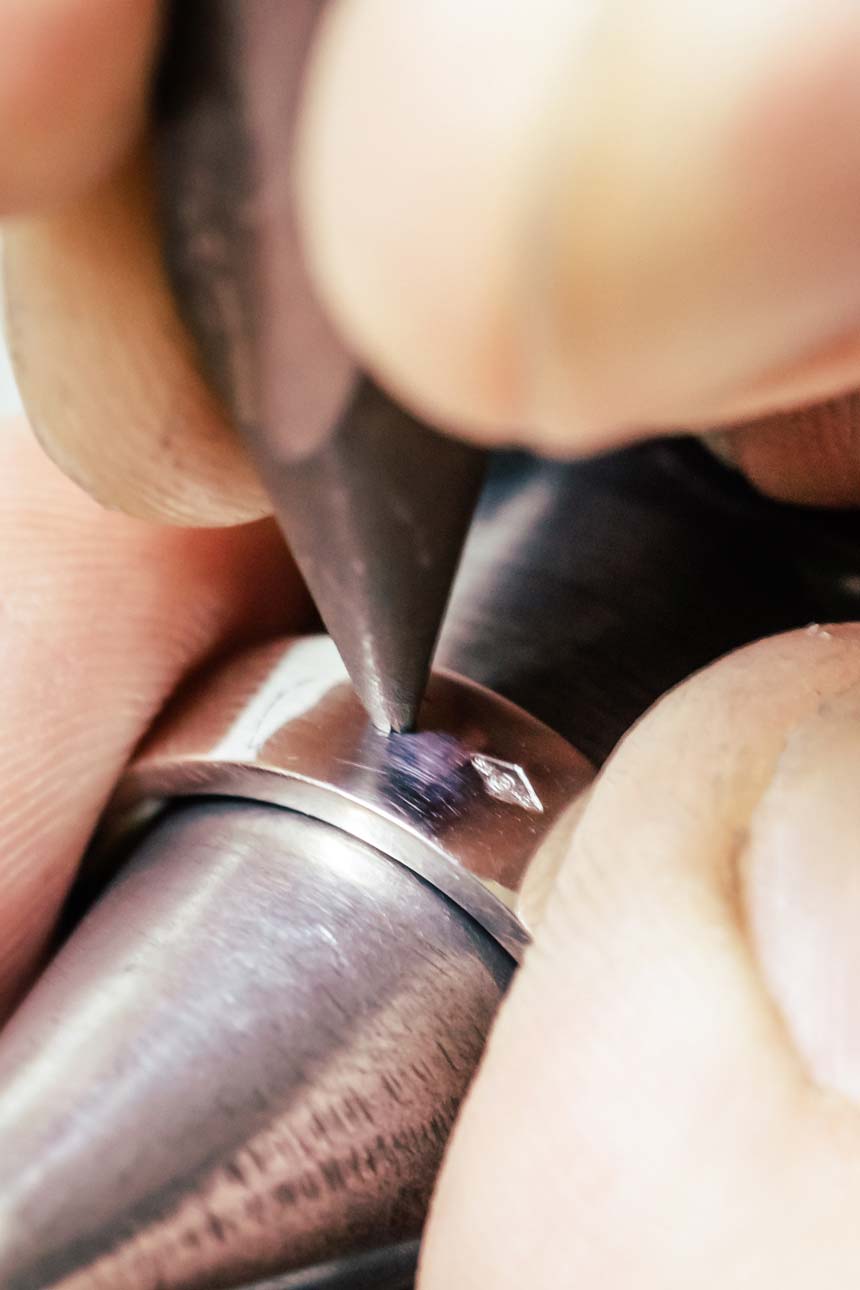 In short, if your jewelry has one or two small marks on the back, check their shape: a diamond shape means that it is made in France. An oval or square shape means that it is imported!
c. Check the finish of your jewelry
Determining the quality of a piece of jewelry requires common sense and a little method:
Start by observing the polish of your jewelry, the smooth part of the ring. For most jewelry,the desired effect is a mirror finish (except of course for a so-called "sandblasted" or "brushed" finish where the metal looks as if it is streaked with fine stripes). In the case of a mirror polish, therefore, the jewelry must be perfectly smooth without scratches. This attests to the fact that the jewelry has never been worn and, above all, that it has passed through the expert hand of an experienced polisher.
The second point to consider is the setting. A quality setting is fine, fairly even and regular. It must be solid, but also leave room for the stones. This is probably the most differentiating point in determining the quality of the finish of your jewel. Be careful, however, in the case of a coloured stone setting. While diamonds are very hard and therefore have a thin edge (the diamond's girdle - in French "rondiste"), which allows for short, regularly curved claws on the stone, coloured stones can have a thicker and more irregular edge (the stone's "feuilletis"), which requires the setter to adapt each claw differently to hold the stone.
Finally, a word of caution though: let's not forget that jewelry making is a craft, so it is normal that not all the claws on your ring or pendant will be perfectly identical. This is what makes your ring unique and does not affect its quality, quite the opposite!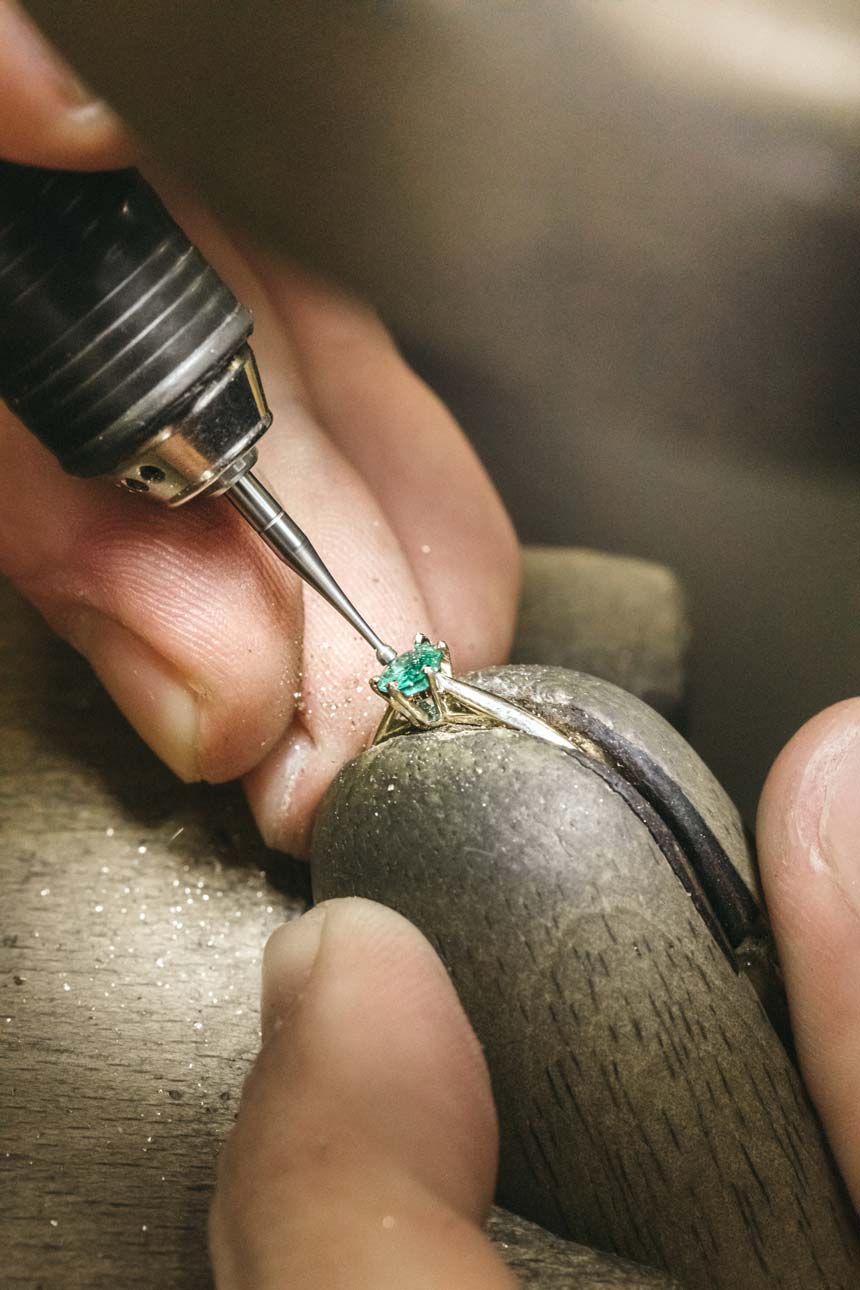 d. Make sure you have a GIA or HRD certificate for a centre diamond over 0.3 carat
For any diamond over 0.3 carat, you will need a GIA or HRD certificate. Not having a certificate for a stone of more than 0,3 carat is really risky, and no serious jeweller proposes diamonds of this size without certification of an independent laboratory. So be careful!
However, there is no need to worry if your jeweller does not offer a certificate for pavé diamonds or, in general, for diamonds under 0.3 carat. The stone is simply too small to be accurately analysed without causing a disproportionate cost. This does not mean that your pavé diamonds are fake! If your jeweller offers the certificate for stones over 0.3 carat, chances are he has more to lose by selling you junk, than with the little he saves by conning you!
The certificate of a diamond is a real identity card of the stone. On this certificate you can find the famous 4C's which give you the various elements constituting its quality: its colour, its clarity, its cut and its carat value. At present, the two main organisations responsible for the identification and the certification of diamonds are the Gemological Institute of America (GIA) and the HRD (Hoge Raad voor Diamant).
e. Consult brand reviews and play the statistics
As we all know, reviews found on the internet are rarely unanimous. There are always a few cases of dissatisfied customers.
"Three stones have disappeared for no reason!" "The claw that held the gemstone has twisted by itself." "The ring has changed shape, it can't be gold!"
These are phrases that are frequently found among reviews.
It is normal for a jeweller who sells tens of thousands of pieces of jewelry a year to have a few unexpected mishaps. This may be due to a mistake on the part of the jeweller (and it is always interesting to see whether the brand's responses to customer feedback seem sincere and sympathetic) but it may also be due to a customer's mishandling of the product. These disappointed customers never have bad intentions, they have simply made an error, without meaning to.
Unfortunately, the negative aspect is often over-represented on review sites. Consider this: how many times have you left a positive review for a shopkeeper who did a good job? On the other hand, have you ever done so in the case of an unfortunate experience?
So it is easy to imagine that a review site has a significant bias towards negative reviews. Our recommendation (also biased!): if the brand you are considering has 90% positive reviews, you can trust it completely. The few unhappy customers are real, but they are just part of the statistics and sometimes have a hint of bad faith... with a minimum of maintenance, you will never be concerned!
——

6. Two more difficult questions, to complete the exercise

a. The difficult question of finger size

You have now decided on the jewelry that will best suit your other half and you have made sure that your jeweller is professional. You're almost there, don't worry! All that remains is to determine your future wife's finger size.

The simple method: discreetly borrow a ring that fits her

If you are lucky enough to have a fiancée who wears a piece of jewelry on her left ring finger (and yes, finger sizes are not the same on the right and left), the easiest thing to do is to discreetly take her jewelry to your jeweller. He will be able to give you the precise, exact size of it with the help of a triboulet.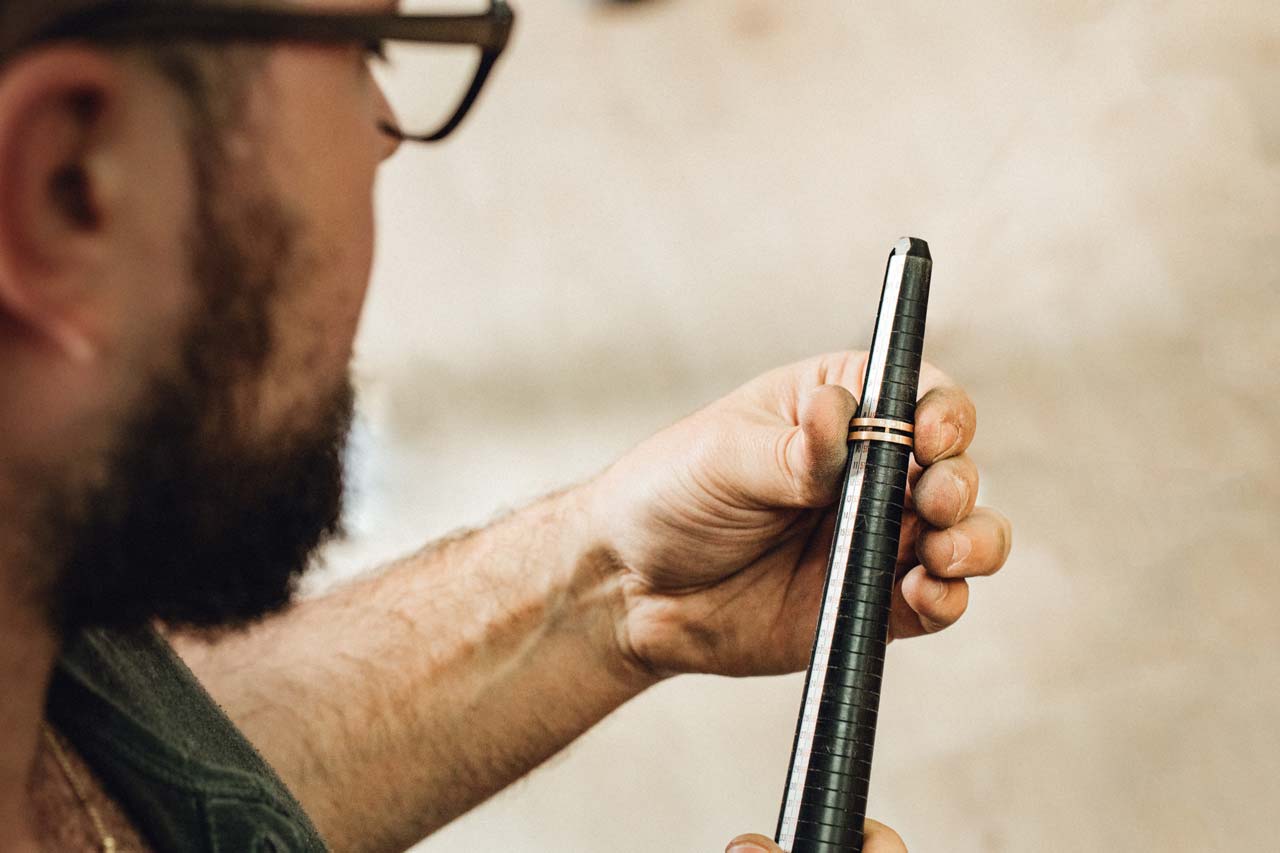 Another simple option is to place the same piece of jewelry on a paper ring, which some jewellers offer – at Gemmyo, it is available here. Be careful, however, to use it accurately: there is very little difference between one size and another and it is easy to make mistakes!
The complex method: estimating your finger size
If your future wife is not used to wearing jewelry, or if she does not wear any on her left ring finger, you will have to be a bit inventive. You'll have to "guess" her size. Yes, yes, you can, I promise! The easiest way to do this is to describe your future fiancée to your jeweller: how tall is she? Does she have thin or wide fingers? How thick is her wrist? These are all clues that can give a fairly accurate idea of the size of finger she will need!
Whatever happens: make sure you get your engagement ring sized to perfection!
Of course, because the size is uncertain until your partner tries on the jewelry, it is absolutely imperative that your jeweller offers you a free sizing discount. This is an essential element that will allow you to make a mistake without the consequences being expensive! This is the case at Gemmyo, despite the fact that we manufacture to order: our aim is to ensure that your partner feels as comfortable as possible with the engagement ring you have chosen for her.
b. Anticipating the wearing of the ring
Finally, there is one last detail to consider when choosing an engagement ring. This is the little detail that will prove to her that you have really taken the time to carefully think about the ring you are going to give her... It is about determining whether the engagement ring is easily worn with a wedding band.
This is because the wedding band can have an impact on your choice of engagement ring. Do you think your future wife will want to wear a straight, simple, curved or pavé wedding band? This question is not entirely trivial. Many engagement rings with a large centre stone do not allow for a straight wedding band to be worn against her side. In this case, you should either opt for a curved wedding band or wear the engagement ring and wedding band on two separate hands.
How do you know what your fiancée will prefer? Again, let's base our thoughts on the statistics: 80% of women choose an engagement ring that is designed to fit perfectly with their wedding band. In fact, this is a fundamental factor in their choice. Indeed, many women can't stand the idea of having a ring that doesn't "fit" perfectly with their wedding band...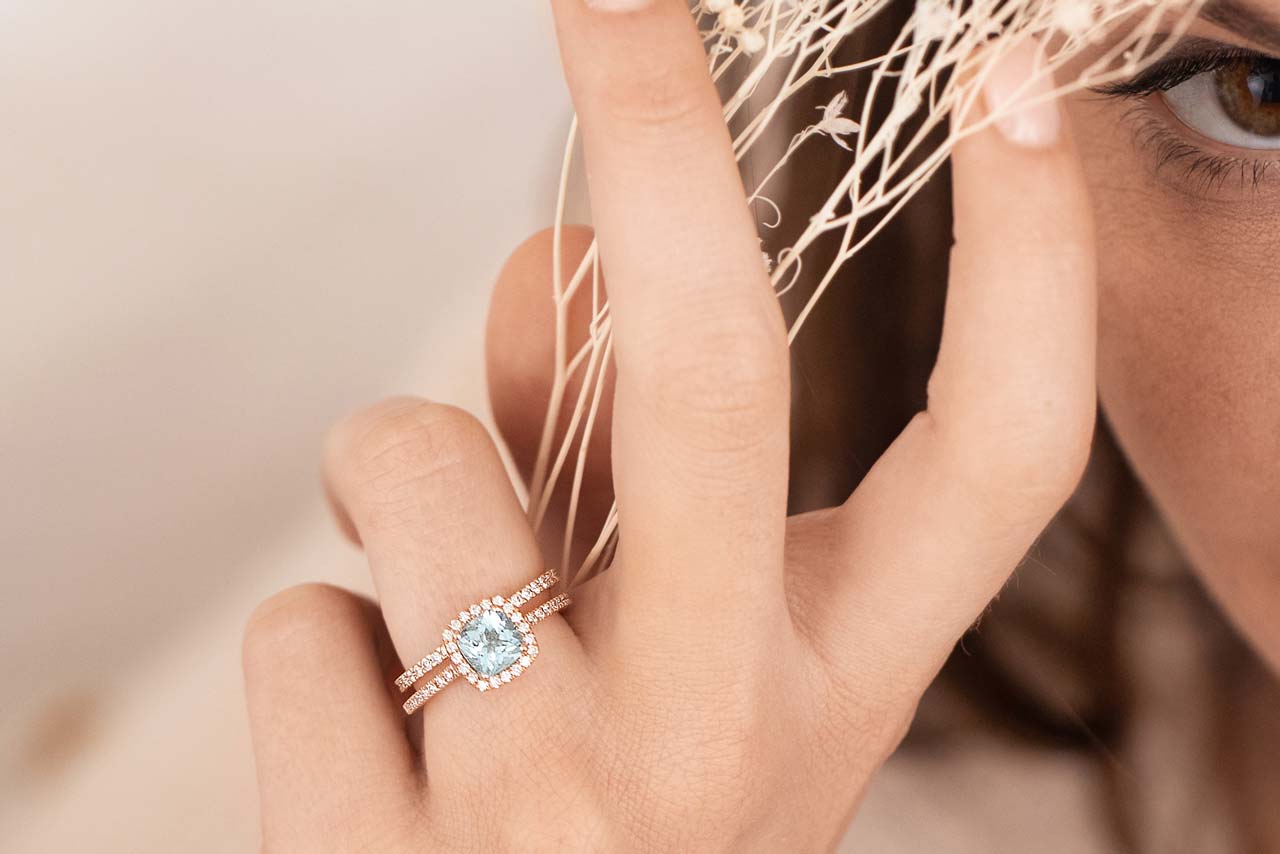 Essentially, whether or not your future fiancée is a bit of a stickler on the subject, it's best not to play with fire: if you want to be sure not to make a mistake, make sure that the ring you choose has been designed to be worn with a straight wedding band. This is the case for most Gemmyo engagement rings. If in doubt, please ask our team for advice on this matter.
——

7. Don't make an irreversible decision

One more piece of advice, before you let yourself go: don't make any irreversible decisions. As mentioned above, choosing an engagement ring is without a doubt one of the most difficult decisions you will ever make. Even if you know your future wife's needs and desires like the back of your hand and have followed every word of our advice, it is always possible to make a mistake. Maybe the finger size won't be right or you won't have chosen the design she secretly dreamed of. This doesn't take away from the hard work you've put in so far! However, it would be a shame the ring didn't end up being entirely perfect for your fiancée wouldn't it!

So make sure you don't make an irreversible decision and choose a jeweller who offers free resizing, exchange or return. This is obviously the case at Gemmyo, but beware: not all jewellers not all jewellers (especially when making to order) offer this option. So be careful! These guarantees will allow you to make your choice without having to worry about making a mistake.
——

8. And one last piece of advice for the road...

We know that choosing an engagement ring is a difficult and stressful time: you want to do the right thing, but you're afraid you'll make a mistake, that they'll say no or that you won't propose at the right time. Most of our clients have gone through these same waves of conflicting emotions, and all of them have come through it unscathed!

As a jeweller, perhaps we shouldn't tell you this, but the secret to a successful proposal is more about the story you tell your bride than the ring itself...

So make her dreams come true! Choose the right moment to propose, and place most importance on your emotions, which are at the centre of this beautiful engagement! Then, once the proposal is made, explain to her how you went about finding her the perfect ring - style, shape, design…your hesitations, your fears, your desires: all these elements will be proof of your love for her and your dedication to her. Don't hold back! This is your moment!

To sum up:

" Opt for a trusted, French-made brand. Don't risk too much originality and make sure you are always prioritising good taste! Always remember that you must have the possibility of exchanging or resizing the ring just in case! "
Some common mistakes
to avoid
You are now ready to choose your engagement ring. However, there may still be some obstacles standing between you and the perfect image of your fiancée looking radiant and happy wearing the ring you have chosen for her. Let us point out some common mistakes to avoid.
——

1. The low-cost copy of a big-name jewel

It's human nature that we are attracted to the trusted, renowned brands! Choose good taste. What has been done before. Especially when you feel lost. We do not discourage you from buying your engagement ring from one of our century-old colleagues on Place Vendôme. If you know that your fiancée is absolutely attached to a particular brand, to a name, don't make the mistake of passing up this opportunity to show her just how well you know her and want to please her!

On the other hand, offering a copy of a piece of jewelry from a famous brand is often a big mistake. Put yourself in her shoes: instead of investing in the best, you are offering a cheap version of what she dreams of. Imagine how she will feel in this case: knowing that she has the impression of having a quality, branded ring that she has always wanted, however at a discount!

So avoid the low-cost copy. Show her that she is unique to you. Choose carefully the jewelry that will fit her best. Once again, don't forget: what will matter most to her is the story you are going to tell. Copying a masterpiece is not the best way to start her story.
——

2. Committing to a piece of jewelry that she may not like and that cannot be exchanged

Another classic mistake to avoid is the irreversible decision. Don't commit to a piece of jewelry that cannot be returned! It would be such a shame if she wasn't perfectly comfortable with your choice! We have seen many customers after such a situation, who come into our boutiques to choose wedding bands and half-heartedly confide in us their disappointment of the past.

We say it again and again: the engagement ring is a piece of jewelry that she will wear for the rest of her life, so don't take any chances and choose a jeweller who offers free returns, exchanges and resizing, like Gemmyo!
——

3. Choose a jeweller whose image doesn't appeal to her and which might ruin the moment

All set. Your request is about to be made. The setting is beautiful. The emotion is at its peak. You take the box out of your pocket... and the mark on the top of the box is like a beat drop. "How could you choose such a cheap jeweller?" These are the words that immediately come to mind.

Do you really want to take that risk? Probably not. Then make sure you choose a jeweller with an inspiring brand image. If you choose a brand that is too plain and simplistic (whose boutiques might typically be in a shopping mall), the charm of the moment is likely to be broken!
——

4. Choosing a ring just because of its brand

On the other hand, another common mistake is to opt for the big brand at any cost and any style! Again, imagine the moment, you are about to ask, anxious but excited. You feel the box hidden in your inside pocket against your chest. You take it out, the first effect is spectacular... tears of joy run down her cheeks. And when you open it... disaster. The ring looks so small and understated, she can't suppress her disappointment. We don't want this to happen!

Purchasing a ring from prestigious, century-old brand has its advantages, but don't forget that when your fiancée wears her ring in public, the brand name will no longer be visible anywhere. The price may seem disproportionate to the desired effect.

Our advice? It's better to impress your future wife with a piece of jewelry that really suits her, rather than attempting to display class and prestige but not considering the style of the ring.
Frequently asked questions from
our customers
——

"I'm hesitating between white gold and platinum: what should I choose?"

This is an excellent question. It is important to understand that it is almost impossible to visually distinguish between 750/1000 white gold and platinum. The difference between these two metals is certainly their price, but above all their durability. Unlike gold, platinum is inherently white. Thus, it will always keep its wonderful white colour over time, whereas white gold will tend to develop a patina and yellow slightly over time.

Our advice: if you can afford it, choose platinum instead, as it will require less maintenance than white gold.
——

"How do I know if my partner would prefer a diamond or a sapphire? She hasn't given me any clues".

If you have absolutely no idea what your partner would like for her engagement ring, our advice is simple: adhere to the statistics and go for the diamond! According to a survey we carried out on 800 women, 80% of them dream of this stone for their engagement ring. Moreover, according to our own sales statistics, 55% of couples choose diamonds. In any case, at Gemmyo, you can make a return or an exchange on your purchase!
——

"Does the brand I have chosen have enough class for my partner?"

This is a good question with no obvious answer since it is a completely subjective idea.

Nevertheless, if you are asking yourself this question, chances are that the notion of brand image is important to you and your future wife. In this case, here are a few principles that we think are useful to follow in order to avoid any errors of taste:
Avoid shopping in supermarkets or malls: even if some mall brands are quite respectable, there is always a psychological risk of shattering the dream associated with finding and buying the ring.
"When in doubt, there is no doubt": if the brand seems less high-end than it claims to be, tell yourself that your bride will probably feel the same way. Avoid this unpleasant situation!
However on the other hand choosing the "Place Vendôme" label is not the be all and end all. What is most important is choosing a ring that ressembles your fiancée perfectly, that inspires confidence, and that you will be proud to show to your future wife, or to your friends.
——

"None of my friends know the brand or are customers, am I crazy to even consider it?"

Absolutely not. It's true that having a friend's recommendation is one of the best ways to feel confident about a product. Nevertheless, it may be that the brand you like has not yet won the hearts of the people around you... that doesn't make it a bad brand.

In this case, why not rely on the brand's former customers? They have nothing to gain by misleading you. You could, for example, contact a customer of the brand you want via Instagram or LinkedIn and ask for their opinion. The answer should help you to place your trust in that brand... or not!
——

"Should I ask a woman's opinion before placing an order?"

Asking a woman's opinion is useful but not always necessary. Indeed, if the person you are asking does not have the same taste or mentality as your future bride, her opinion could even be counterproductive and mislead you. We have often seen the sister or mother of the future groom giving their opinions in a rather assertive way that turned out to not suit the desires of the daughter or sister. So our advice would be:
Place your trust in the jeweller's if you feel they have really understood your future wife's style. After all, the advisors see hundreds of customers every month and helping someone find the right jewelry is their job! Judge the situation on whether you feel like you are questioning whether they have taken into account your fiancée's wants and needs, or whether you feel comfortable and secure with what has been suggested.
Either trust a woman who knows your future wife and has a good understanding of her style. However, make sure that she knows the difference between what she would like for herself and what she thinks will suit your future wife! It's often quite different!
——

"The ring I spotted is way over my initial budget, what should I do?"

Buying quality jewelry is expensive, that's for sure. It is an investment in your relationship. It's an object that your future wife will wear for the rest of her life, perhaps even pass on to your child. Therefore, is it not essential and normal to invest time, energy and money in this purchase?

The cost of your jewelry should be put into perspective: let's say you are married for 30 years. So do the math: how much does your jewelry cost you per year? Or per month? Probably much less than you thought. It's all a matter of perspective, and you'll realise that a piece of jewelry that lasts a lifetime is not so expensive in relation to the time it is worn. Compare it to the price of your latest smartphone with respect to how long that will last!
——

"Do I need to worry about after-sales service right now?"

Yes, a piece of jewelry is a precious object: it needs to be looked after so that it doesn't get damaged. Choose a jeweller who can guarantee to repair your jewelry in time. An unfortunate accident happens easily. It is not a question of quality. Remember that this piece of jewelry will be worn every day, for years to come. To make a rather straightforward comparison: imagine your jewelry as a beautiful car. Would you ever think of driving it every day without it ever needing maintenance? Probably not. The same goes for a piece of jewelry.

So choose a company that offers a lifetime warranty against defects and hidden faults. This will allow you to look forward to the future with peace of mind.