To begin with, we offer you the possibility of receiving a ring sizer sent directly to the address of your choice:
Whether you are looking for a ring to give to a loved one, an engagement ring or your next piece of jewelry, the choice of size is not always obvious.
How do you determine finger size? Does it vary according to the models or the Maisons? How can you be sure you are not making a mistake? What should you do if it's not the right size?
These are common questions from our customers, so we have decided to provide you with this guide with all our tips on how to choose the right ring size!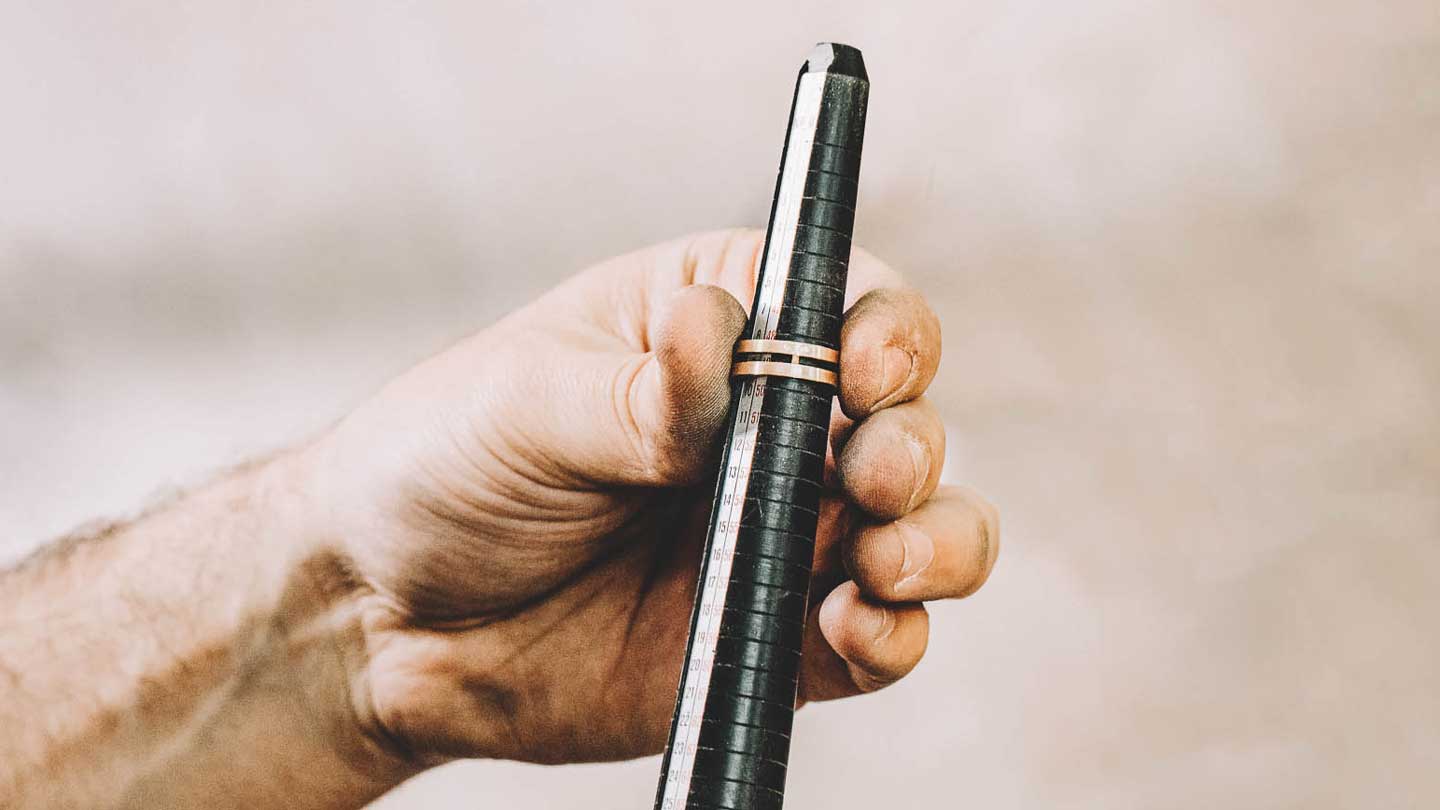 The definition
of a ring size
Before we get into more precise explanations, let's start by understanding what a finger size is, and let's say this straight away : there is a catch ;)
The easiest way to explain is to use a concrete example, like a size 52 ring:
Contrary to what we think, this size 52 corresponds to the circumference of the ring and not to its inner diameter.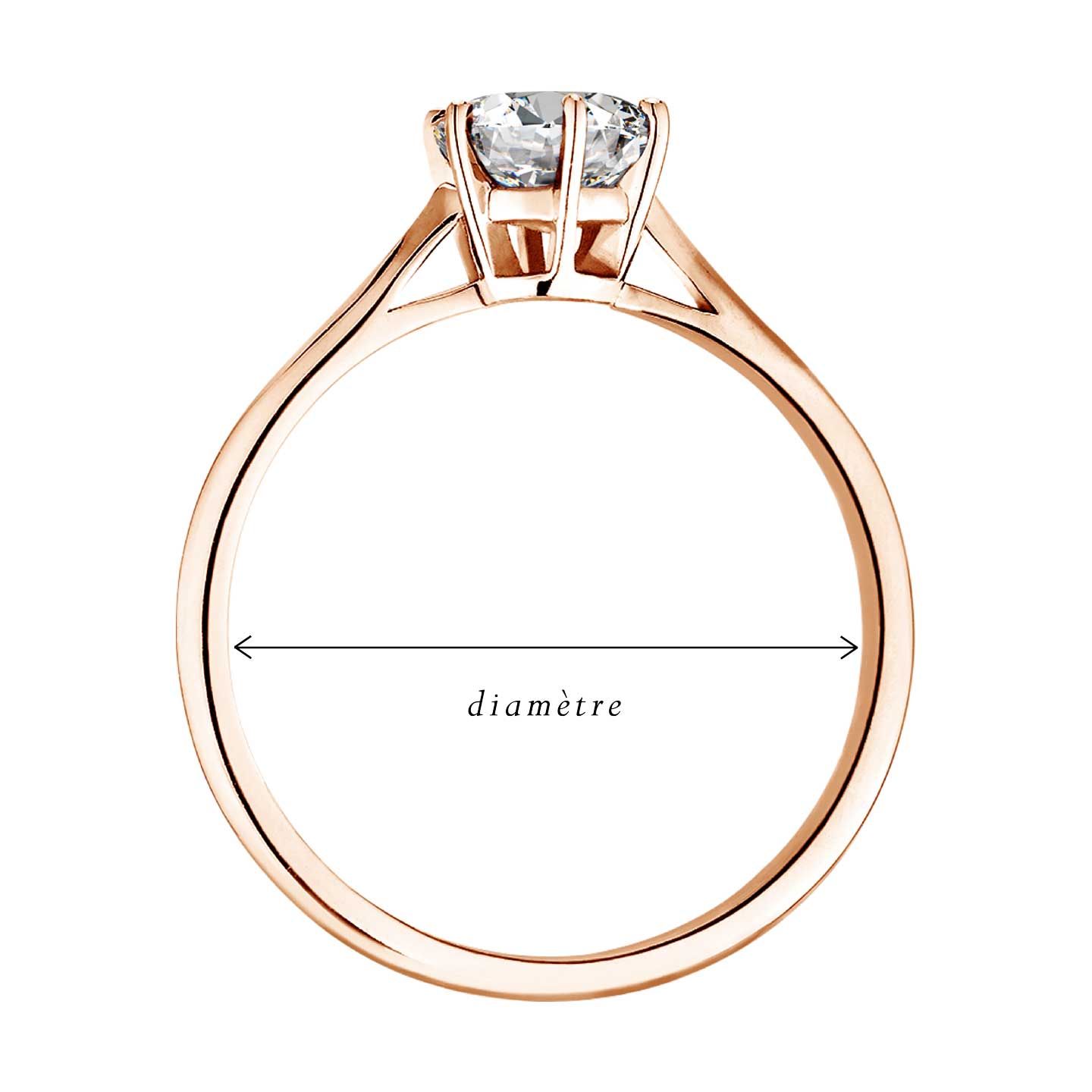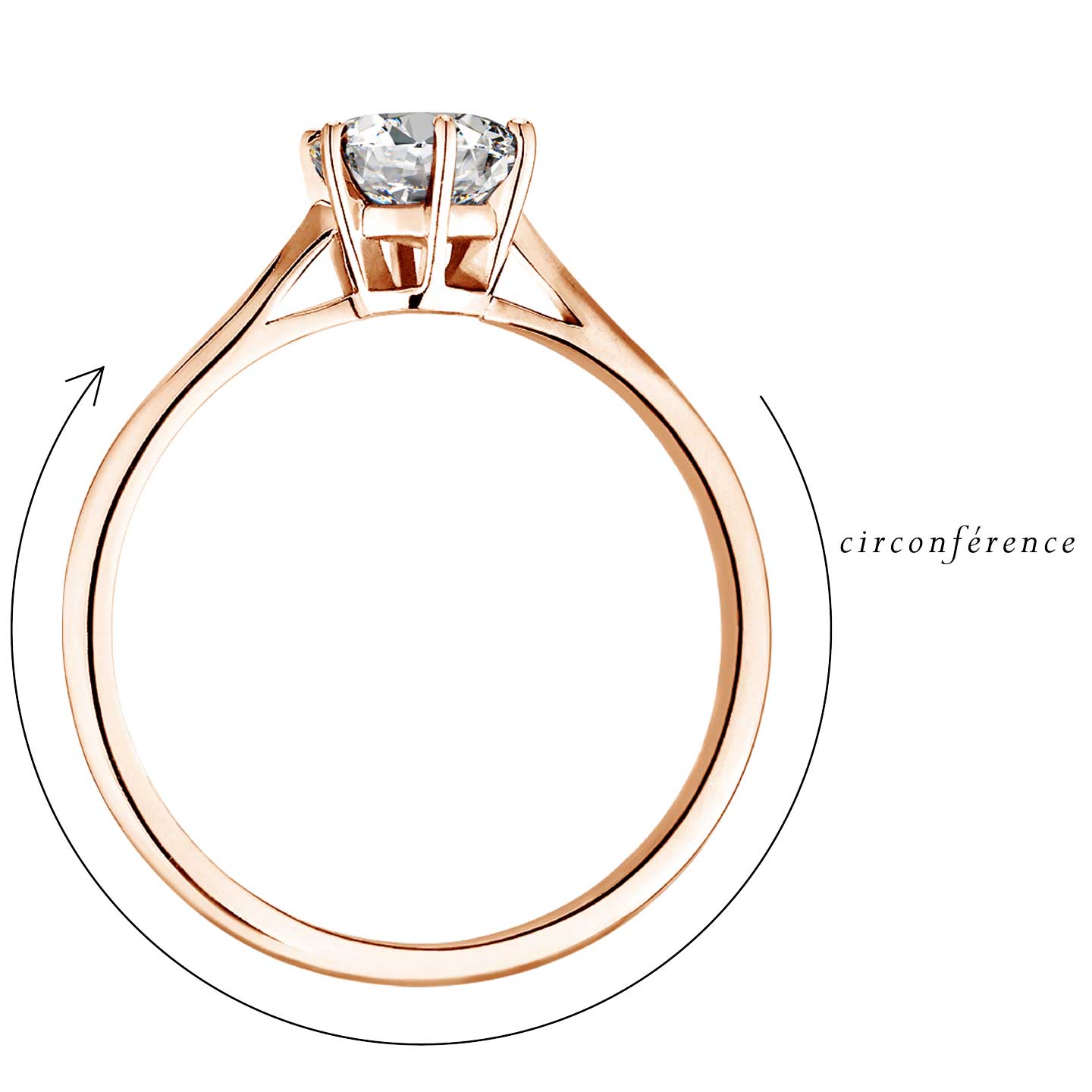 A 52 ring size therefore corresponds to 52 mm of finger circumference in the literal sense of the word. If you take a string or a flexible tape measure and wrap it around your finger, you will get this measurement.
The size is therefore defined by this first circumference measurement but can also be defined by the inner diameter of a piece of jewelry.
To obtain the measurement of the inner diameter, you have to go through a mathematical calculation that you can fortunately avoid thanks to a conversion table or by contacting us directly!
Here are some other examples:
- A size 50 ring corresponds to a diameter of 15.9 mm
- A size 51 ring corresponds to a diameter of 16.2 mm
- A size 52 ring corresponds to a diameter of 16.6 mm
- A size 53 ring corresponds to a diameter of 16.9 mm
- A size 54 ring corresponds to a diameter of 17.2 mm
For those of you who are curious, you may be wondering what the calculation is to obtain these figures. You just have to divide the size by Pi, that is to say approximately 3.14..., in order to work out the inner diameter of your ring!
Now that we have clarified the definition of a finger size, let's see what it means to choose the right size.
——

What is the right finger size?

Firstly, let's establish that the finger is a part of the body that changes slightly over the course of the day, so what is considered to be a good size is relative and above all subjective.

As is the case with clothing, even if you have a size that you know nearly always fits you, you must also take into account what feels most comfortable when choosing the right size. Your size will also vary during your life with age, pregnancy, weight gain or loss and even during the day by one or two sizes!

So let's be clear, we must not be overly particular about the size of a ring because the most perfectly precise size to the millimeter does not exist. You just need to find the one that will be most comfortable to wear.

That being said, a simple definition of a good size would be to say:

An ideal finger size is one that allows the jewelry to pass the joint of your finger with light to moderate resistance.

What does this mean?

You have to be able to put on your ring without difficulty, and it has to be able to turn on your finger without grazing or hurting it, otherwise it is too tight. There needs to be some resistance so that you must turn it a little to take it off and pass the joint.

So you can choose to wear a piece of jewelry that is looser or tighter by sizing up or down by 1, if you know that your fingers tend to swell slightly in summer, for example.

Did you know?

The difference between two sizes is tiny, there is only 0.3 mm difference!

A change of only one size is therefore minimal but can make the ring considerably more comfortable or, conversely, avoid any risk of losing your jewelry.
Our methods
to determine the finger size
Now that we have explained what a good finger size is, we just have to find it :)
——

For yourself or with the recipient

a. With the help of a professional in a boutique

The most accurate method of determining the ideal finger size is undoubtedly to seek the help of an advisor in a boutique. At Gemmyo, as with most of our colleagues, we will offer you the use of a professional ring sizer.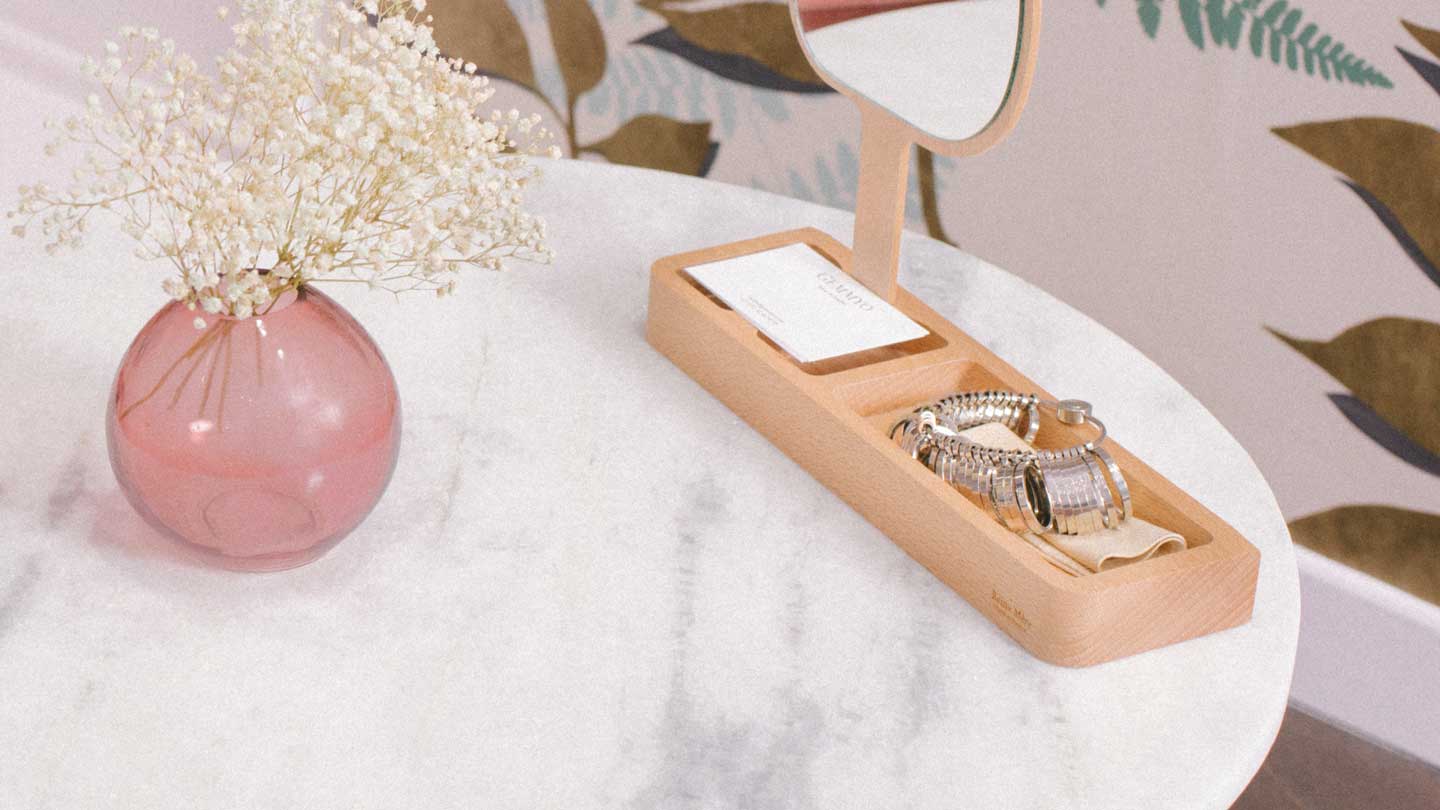 This tool looks like a key ring but with rings of all sizes, allowing you to simulate a ring; trying out a variety of sizes and thus directly showing you the size you need. It is a very accurate tool, with the added benefit of our advisors' advice in person ;)
Another advantage of coming to the boutique to measure your finger size is that we have models on display for you to see. This way, you can easily confirm the size you need by trying it on in real life.
b. A ring sizer at home
If you want to know your finger size without going to the boutique, we offer the possibility of sending a ring sizer to your home by mail in an unmarked envelope!
This ring gauge looks like a small plastic tab and is very easy to use.
Once you receive it, all you have to do is slide the end of it into the little magnifying glass on it and thus turn the ring sizer into a real graduated ring!
All you have to do is slip it on and read the correct size directly.
Our advice
It is best to avoid putting your plastic ring on your finger and tightening it like a belt without being able to remove it. This will not give you the right size! Think of using it as a ring and passing the joint several times, as if you were putting on and taking off a ring. In doing so, the ring will naturally adjust to you and you will get the most accurate measurement of your finger size.
Remember, the resistance to the passage of the joint is decisive for getting the right size : a light to moderate resistance.
We have just seen two types of methods of working out your own ring size or the size of the person receiving the ring... if they know about it of course :)
But then, what if this is not the case? How does one determine the size for a surprise? For an engagement ring for example ?
Don't worry, we have some tips for you too!
——

For a gift or a surprise

Choosing a ring size for a surprise is inevitably a more risky exercise.

Without being able to measure the recipient's finger size, how can you find out their size discreetly?

a. Using a paper ring sizer

At Gemmyo, when you request a ring sizer you will actually receive two versions.

The plastic ring sizer, which we have just mentioned, and a sheet of paper with black rings of different sizes printed on it.

This paper version makes it easy to measure an existing piece of jewelry by placing a ring belonging to the recipient on these rings in order to find the perfect match and therefore the corresponding size.

If you use this method, however, there are two precautions to take:
The flatter the ring's band, the more accurate the measurement will be. The ideal ring for this would be a wedding band, such as a very simple half-band for example.

Be careful to ensure that you measure a piece of jewelry that fits the right finger. Yes, it's obvious but it's easy to make mistakes, believe us :)
Our advice
It is easy to find a paper ring sizer to download and print yourself but be careful!
The ring sizer we send you are printed with a specially calibrated printer because if this is not the case, the measurement will be wrong and you won't have the right finger size.
b. Measure an existing ring yourself
Finally, it is quite possible to simply measure a ring yourself.
To do this, you can use a double decimeter and measure its inner diameter.
However, even though this measurement can be practical, it is less accurate and we always advise using a ring sizer.
Good to know: In our boutiques we have a tool called a triboulet which allows us to measure the size of an existing ring with great precision. So, don't hesitate to come and visit us with the recipient's jewelry, we will help you determine its size.
FAQs
——

"Are ring sizes different between different Maisons?"

The good news is that finger size is universal! You can therefore take measurements without necessarily going through the Maison that makes the jewelry of your choice.

As with clothing, there are nevertheless different units of measurement by country. Here are some examples:
Inside
diameter
FR
(circumference


(

in mm)
US
United States
DE
Germany
UK
England
Italy
Spain
Switzerland
Netherlands
15,6 mm
49
5
15 3/4
J 1/2
9
16 mm
50
5,5
16 1/4
L
10
16,2 mm
51
-
6 1/2
-
11
16,6 mm
52
6
16 3/4
M
12
16,9 mm
53
6,5
17
N
13
17,2 mm
54
7
17 1/4
O
14
17,5 mm
55
7,5
17 3/4
P
15
It should also be noted that the standard of French sizes changed in the 1980s. Thus, a size 52 at the time is not the same size as today.
Do not hesitate to contact us directly if you need more conversions :)
——

"Does the ring size vary depending on the model?"

It is possible that a very thin piece of jewelry, such as a Gemmyorama Solo ring for example, or on the other hand a very wide model, will after the size very slightly. It's a question of feeling. A chain ring is often perceived as less elegant when it is too tight and cuts into the skin. We generally take it a little wider, a bit like trousers that we want to be more comfortable in! The same goes for a wide ring.

However, you should know that at Gemmyo, when we design a new model, we test our rings for many months to make sure that when we offer a size 50 on a chain or a large jewelry, it is a real 50 when worn.

Sometimes the size indicated on a triboulet for this type of jewelry may vary by one or two sizes compared to the real size worn. This is quite normal since this measuring device is much more rigid than a finger. It is not as reliable as a ring sizer with metal rings!

In short, don't worry: this question of size has been studied by our teams so that you don't have to worry about it. Remember that at Gemmyo, when you order a size 50, you receive a real size 50 when worn. Whatever the number on a triboulet is :)

To conclude, let us note that these variations are tiny and do not justify taking a smaller or larger size. They are also very difficult to predict and are only possible for extreme widths, so don't complicate things, always go for your size without thinking about the model.
——

"What are the average finger sizes for women and men?"

The average ring finger size for a French woman is between 50 and 54.

The average ring finger size for a French man is 60. The size varies according to the morphology of each person. A tall person, with a large bone structure, will naturally have a larger finger size than a short person!
——

"I'm hesitating between two sizes after measuring, what should I do?

If you're hesitating between two sizes, we advise you to always take the larger of the two!

Why is that?

It is always more comfortable to wear a slightly larger piece of jewelry than one that is too tight, especially in the case of temperature variations - which we discuss in response to the next question.

Let's not forget that there is only 0.3 mm between one size and another, so it's best not to nitpick too much on this subject... especially since, once again, the finger varies throughout the day.
——

"Can finger size vary?"

Finger sizes can vary due to three major factors:

- First, the temperature.

Finger size can vary with temperature, when it is hot, fingers tend to swell. Conversely, a finger shrinks when it is cold.

It is therefore quite normal for a piece of jewelry to be too big in winter, easily twisting around your finger, and a little tight in summer. This does not mean that the size is not right, it is simply that the finger is a part of the body that changes a lot!

You have to find the right balance so that it is not too tight in summer and not at the risk of falling off in winter.

- Weight loss or gain

Weight variations influence the size of your fingers. Ladies, be careful if you are pregnant, your finger size will be different! However, we shouldn't place too much emphasis on this. Putting on 5 kg does not affect the size of your finger. You really need to gain or lose at least ten kilos for this to have an effect.

- Age

With age the joints thicken, this is quite normal. One more reason why it is better to have a piece of jewelry that is slightly too big than too small :)

Did you know?

We usually have one hand slightly larger than the other and this is especially related to writing! And yes, when you are right-handed, the size of your right hand fingers is often larger than the size of your left hand fingers and vice versa. In general, 1 to 2 sizes apart.

To conclude, as we have seen, the size of our fingers varies constantly. So, if you are looking for your ideal size, we recommend that you take your measurements at different times of the day to determine which one will fit you best.

One last tip on this topic: your fingers are usually less swollen in the morning than in the evening after a long day :)
——

"Despite careful measurements, the size is not right, what are the solutions?"

If the size of the jewelry you received is not right, don't panic!

At Gemmyo, we offer resizing for all our models, under certain conditions, so don't worry: all corrections are possible.

As you know, we work to measure and to order, this type of correction is not always possible. We would like to support you even after your jewelry has been made so in case of a size error we offer you the correction even for engraved jewelry!

If you have any doubts about the size of a piece of jewelry when you receive it, please do not hesitate to contact us directly.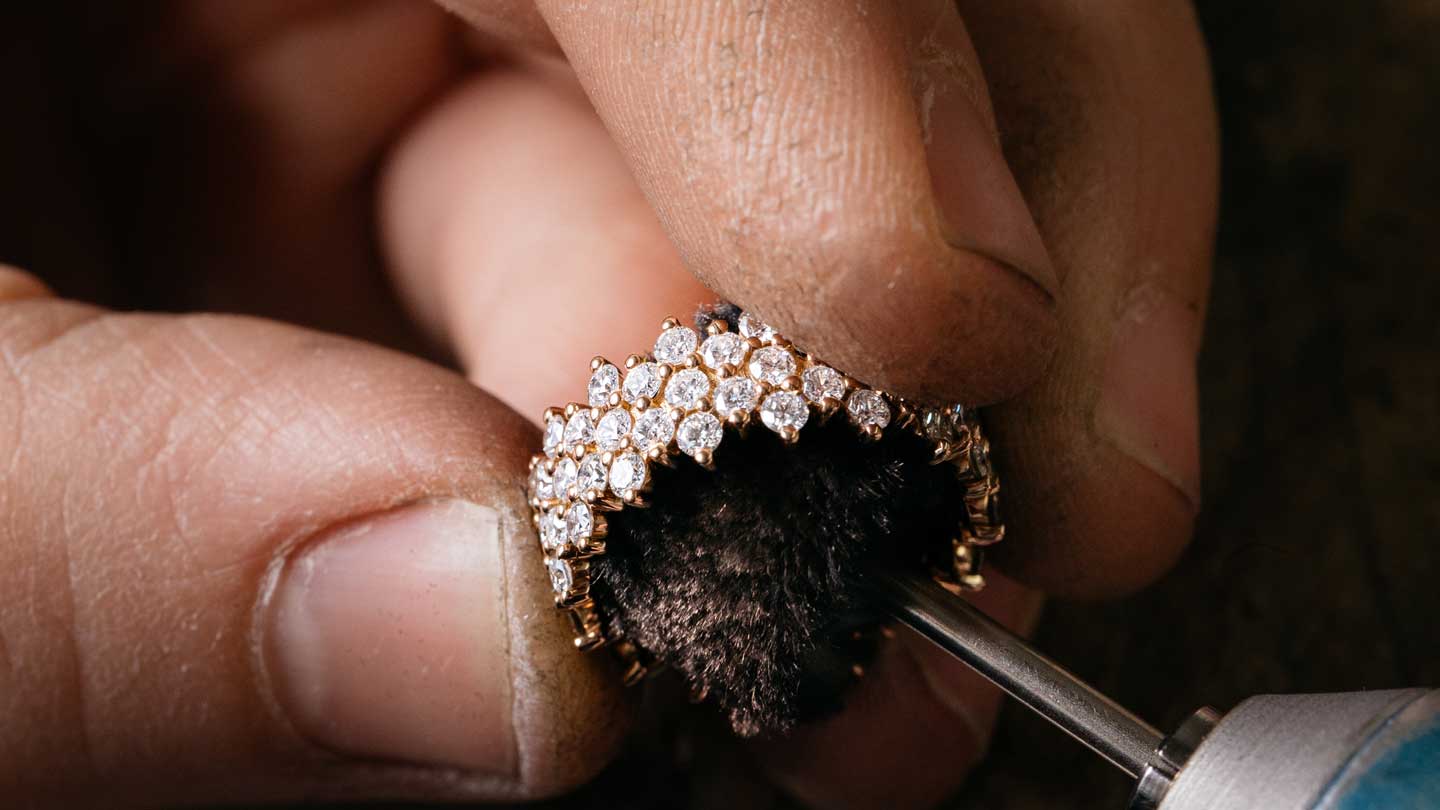 ——

"Can I resize my jewelry somewhere other than Gemmyo?"

We know that it is often frustrating to not receive the right size and to send your jewelry back for a correction. At Gemmyo, this correction can take up to 4 weeks.

Some of our colleagues, especially local jewelers, may offer faster resizing but we do not recommend this. While they are certainly very competent, no workshop knows our jewelry better than our own craftsmen!

Why this delay?

Correcting a size on a piece of jewelry is a delicate operation that must be done with care! Also, you should know that it is sometimes impossible to resize an existing piece of jewelry. In this case, we take care of the new manufacture of your ring in the requested size.

Resizing your ring in our workshop is the assurance of maintaining our quality and protects you from any risk of damaging it. Moreover, using our services allows you to keep the lifetime warranty for your ring.
To conclude
A piece of jewelry is an important object and naturally everything has to be perfect, including its size.
That said, even if finding out your finger size may seem insurmountable, it is actually a very simple process, rest assured!
The perfect size does not mean looking for extreme precision to the tenth of a millimeter since, as we have seen, our fingers are constantly changing, as the seasons and even the days go by.
So, choose a comfortable size with sufficient resistance to the passage of the joint to avoid losing the jewelry, no need to make it more complicated than that :)