Our Prima watch
We are very happy to be able to offer you this model which has been 2 years in the making to be completely perfect. This first set is a continuation of what we've been doing for 10 years in jewelry: a demanding know-how in every detail, an elegant model with high quality materials at the fairest price.
To do right by this promise, it was obvious to us that we should offer a Swiss Made model. Though our jewelry is made in France, we wished to offer you the best of watchmaking. And as we've established in our guide on watchmaking, the best of the best is in Switzerland!
With its octagonal shape, inspired by the shape of a step-cut diamond, the Prima watch references our jeweler DNA. The rose steel version is a tribute to our rose gold, appreciated for its soft and bright color. Even if you choose the steel version, you'll find a discrete rose tint on the dial's hands. Finally, the delicate proportions are a picture of our jewelry: discrete and elegant.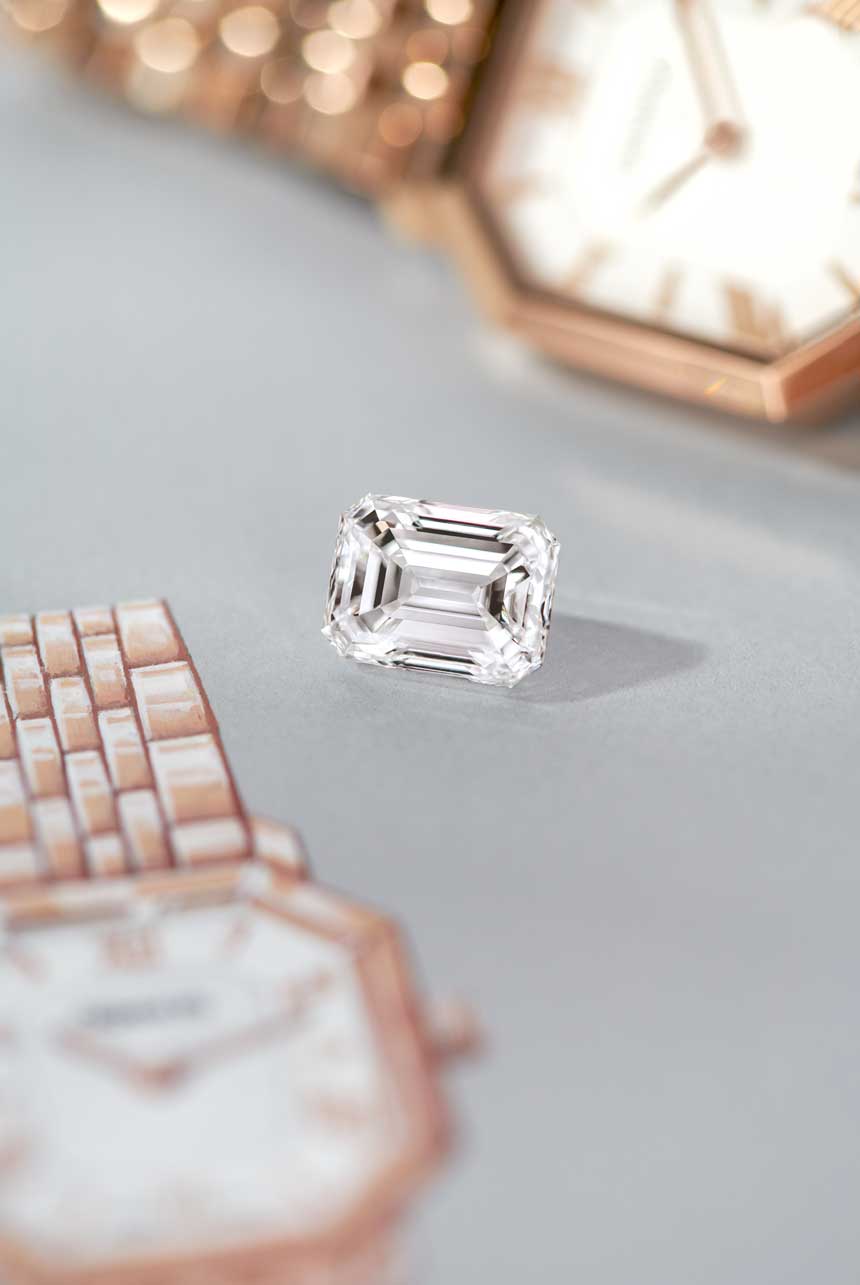 Key concepts
Beyond its design, you surely have some more technical questions which we will now answer :)
——

What does ETA mean, as in "ETA Quarz Movement"?

The term ETA refers to a staple movement manufacturer in Switzerland. As a provider for several Maisons, it is a point of reference in the watchmaking world for quartz movements as well as automatic movements. An ETA quartz movement is recognized as one of the most reliable in the world. Which is why we've chosen to offer this movement on our model!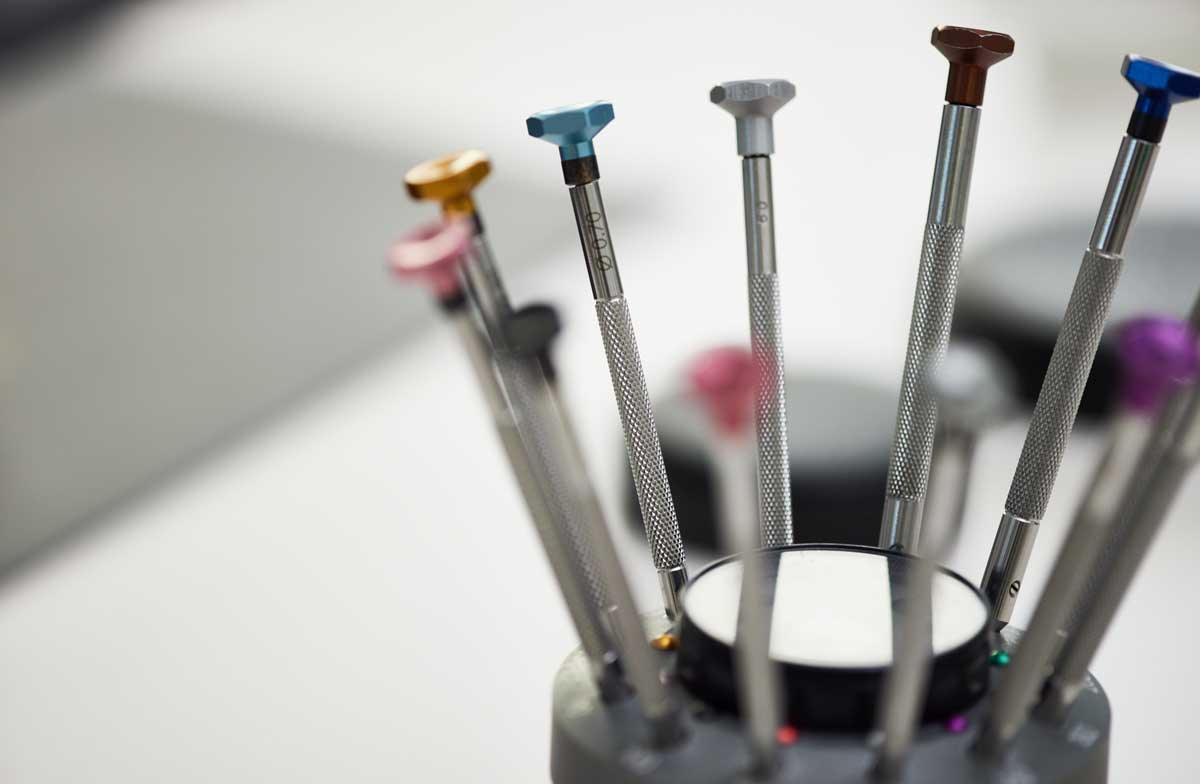 ——

What does 5 ATM mean?

"ATM" references a watch's resistance to water. For example, our Prima model can resist pressure equivalent to a depth of 50 meters.
Careful, this does not mean that the watch can be taken on a 50 meter dive. More specifically, this means the watch is adapted to baths or swimming pools, but only for non-athletic use, in shallow waters and with no diving (avoid water polo and flips!).
Moreover, if you wash dishes often or go on spa trips, we strongly recommend avoiding spraying water directly onto the case as it may be equivalent to a higher pressure than it can withstand.
Finally, the case can be water resistant while the bracelet is not. If you have chosen a leather bracelet, for example, it shouldn't be put in water (we'll explain why further down).
——

What is Rose PVD?

Inspired by the emblematic signature of our Maison: rose gold, certain versions of the Prima model are coated with its color thanks to the PVD method (meaning Physical Vapor Deposition). Much less costly than 18 carat gold though very similar visually, it is a perfect alternative if you enjoy a golden spark but don't want to let go of several thousand dollars. In our opinion, the choice is obvious!
The stainless steel pieces (like the hands, the marker or the case) are placed in a sealed chamber with rose gold to absorb its particles thanks to a magnetic field. The result? A bright and soft color that lasts overtime and doesn't produce any environmentally harmful waste.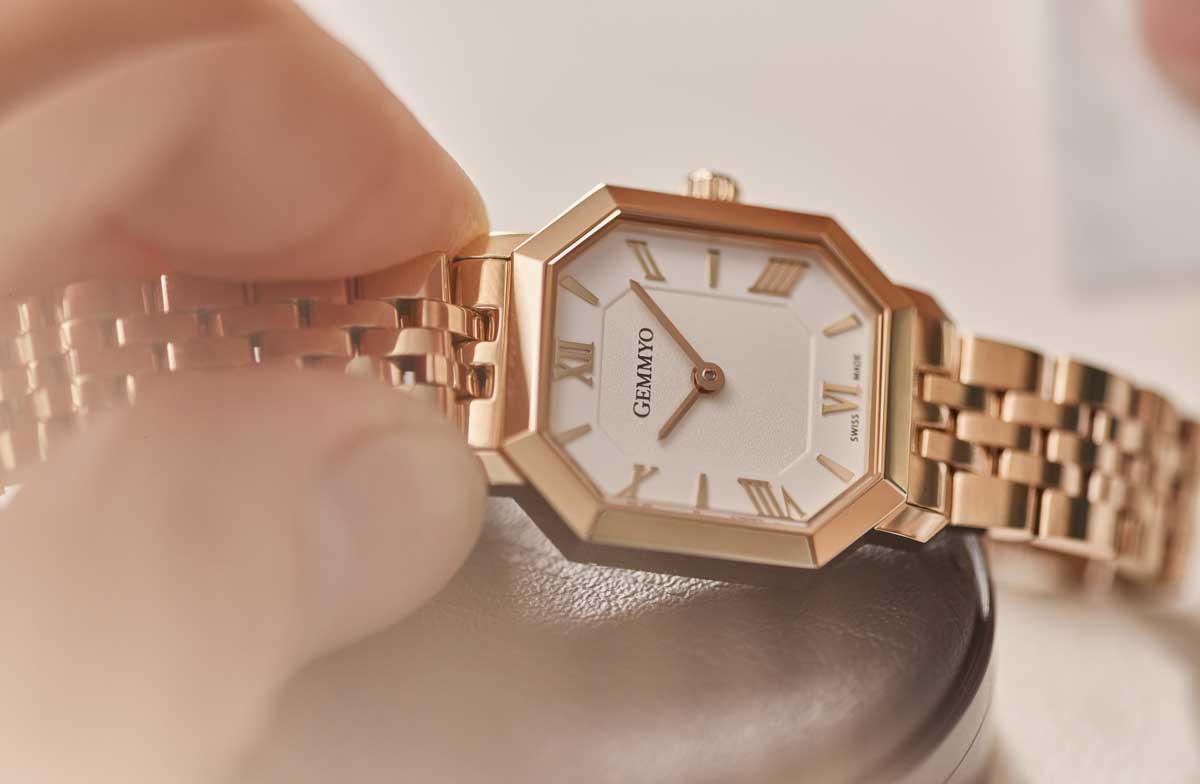 ——

What is Sapphire glass?

Sapphire glass is made from synthetic corundum crystals (the technical term for sapphire). When heated at very high temperatures these crystals transform to make a very resistant transparent material ;) The same hardness as the famous sapphire in jewelry (find our guide on precious stones ici).

Sapphire glass is a watchmaking staple. It's used by the great manufacturers and greater Maisons for its high resistance: it is scratch proof unless scratched by another sapphire or a diamond.
Although it is so resistant, it isn't unbreakable and can be damaged by violent impacts. It is thus important to take care of your watch and avoid wearing it in high risk situations. Moreover, we chose a glass sapphire with an antireflective treatment for our model, allowing for perfect viability of the dial at all times :)
——

What is our leather's particularity?

Our natural leather is, as its name indicates, mostly untreated. Our leather pieces come from a "full grain" leather, manufactured by one of the best tanneries in France, in the Besançon region (one of the strongholds of French know-how). The tanners work the material down to the smallest detail to remove any imperfections. Thanks to artisanal expertise, they prepare the skin to bring out all of its flexibility, sand the leather to remove little imperfections, then manufacture and assemble the different pieces to create an elegant bracelet. There is a total of 60 steps to make each bracelet with the intervention of 5 to 6 people! Every detail of this meticulous work is then controlled: everything must be perfect, from the material to the smooth clean cut edge finish.

Its story doesn't stop here. With time, the leather's authentic aspect will develop a patina and continue to reveal its singularity.

Can your leather bracelet go underwater? Unfortunately no. Our bracelet's leather - though it's of exceptional quality and particularly resistant - is a living material, mostly untreated, and its exposure to water could result in premature aging. If your watch bracelet gets wet, it is recommended to dry it very softly with a cloth then to let it air dry at room temperature, away from any heat source.

How to maintain it? Your natural leather bracelet will develop a patina overtime. Exposed to light, its color will transform and brown revealing its character and personality. To conserve its flexibility, we recommend nourishing it regularly with a suitable cream or bee's wax specifically made for leather maintenance.
FAQs
——

How to adjust the bracelet to the wrist?

When you order, we offer to adjust your bracelet. Ideally, you should come into one of our boutiques to guarantee the perfect adjustment :) However, if you prefer to order online, we have prepared a downloadable tool so that you can measure your wrist size. Depending on this size, we will adapt the number of links before sending you the watch.

If you made a mistake when measuring your wrist or you were lucky enough to receive a watch as a gift (in the wrong size), don't worry! The resizing of the bracelet is free in all of our boutiques within a 30 day period.

You simply need to book a meeting at one of our addresses and we'll immediately adjust the number of links of your watch on site in just a few minutes for it to perfectly adapt to your wrist's size.

If you wish to widen your bracelet, don't forget to bring the extra links provided in the box with your order.

You aren't able to visit us? Please contact our customer service to find a solution.

Moreover, we've chosen screw links for all steel bracelets of our Prima model. Mainly used by the great watchmaking Maisons, the stems are locked in thanks to a screw thread, guaranteeing maximum security.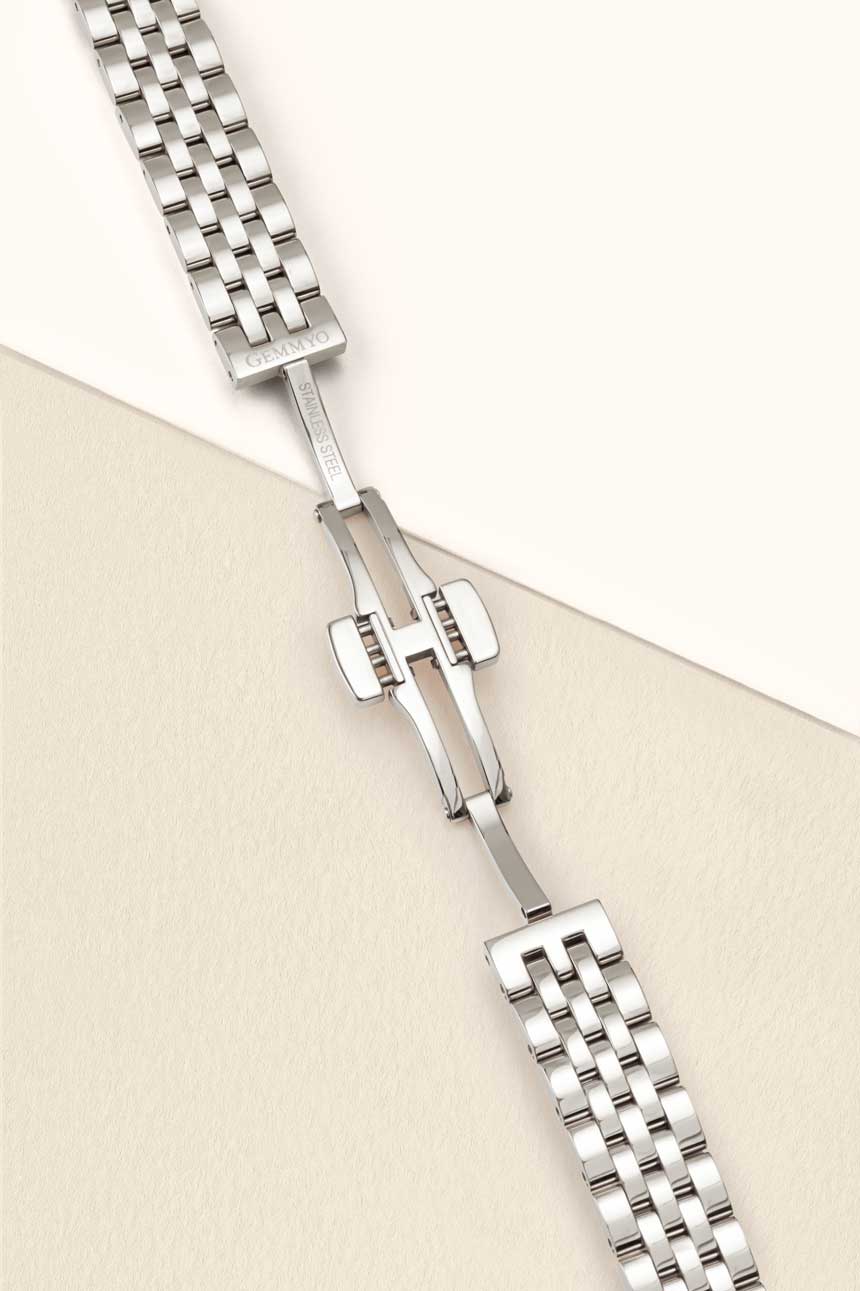 ——

How to change the bracelet?

The Prima watch's bracelets were made to be easily interchangeable? Thanks to an ingenious sliding system, the change can be done anywhere and without tools.
At the bracelet's base (the end piece), on either side of the case, two beads must be pinched inwards to release the clasp.

To attach another bracelet, simply pinch the beads again then position the base in the intended place on the case.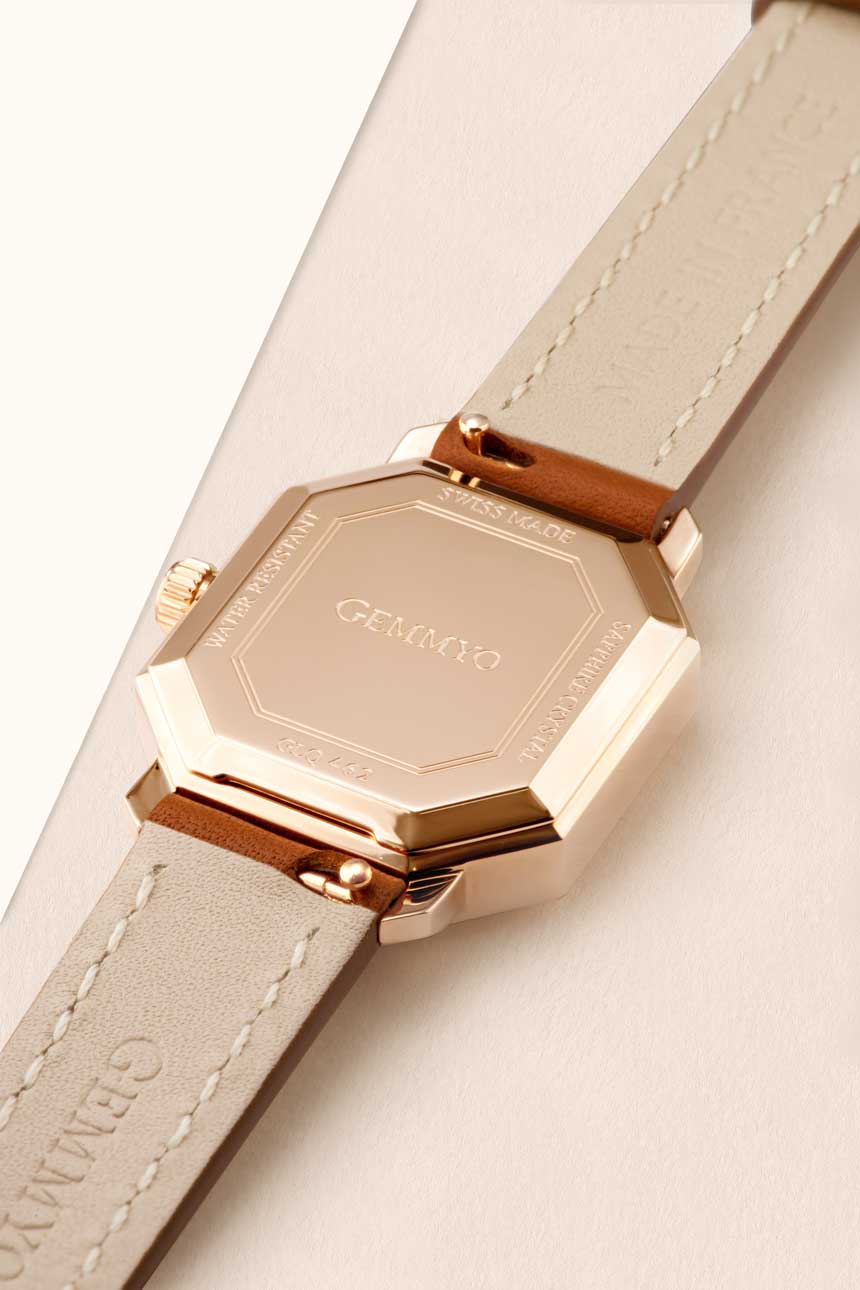 ——

What is the movements autonomy?

A battery's lifetime can vary depending on factors such as external temperature. However, you can count on around 4 years of autonomy. When you find that your watch stops or works in an irregular manner, it is time to change the battery. It is important to act quickly to avoid damaging the movement.

Simply entrust us with your watch by either contacting our customer service, or dropping it off at one of our boutiques. We will then send it to one of our watchmaking workshops and, on top of changing the battery, they will take time to care for it to guarantee perfect water resistance after the operation.
——

Is a watch worn on the right or left wrist?

There is no official rule. However, careful observation will lead you to the conclusion that most people wear their watch on the left wrist. The exact reason hasn't been precisely identified but we recognise that it is more comfortable and less dangerous for the watch to be worn on the side opposite of our dominant hand. Knowing that 90% of people are right handed, it is easy to conclude that most people wear their watch on the left hand.
Do you still have doubts about this theory? Hold your coffee cup (not too hot) in your right hand and turn your wrist in the same direction to check the time.
To conclude
Have we sparked your curiosity with our Prima model? Time to discover it!
Available in Steel or Rose steel, in simple leather or double tour, we are particularly proud of this model. Imagined and conceived meticulously, our goal is to offer an elegant, reliable watch, perfectly adapted to daily use.
In this first set, each watch has a unique number engraved on the case.
We invite you to discover it and try it on in one of our boutiques, don't hesitate to book your meeting !
Our Maisons is starting a new chapter in its story, we are as happy as ever to write it with you.