At Gemmyo, we are convinced that the demand for craftsmanship must go beyond the manufacturing process and also apply to the preparation of each order.
You are probably wondering what happens right after a piece of jewelry has been made and how it is prepared.
This is why we wanted to share with you the different stages that a piece of jewelry goes through, from the end of its manufacture to its arrival at your home.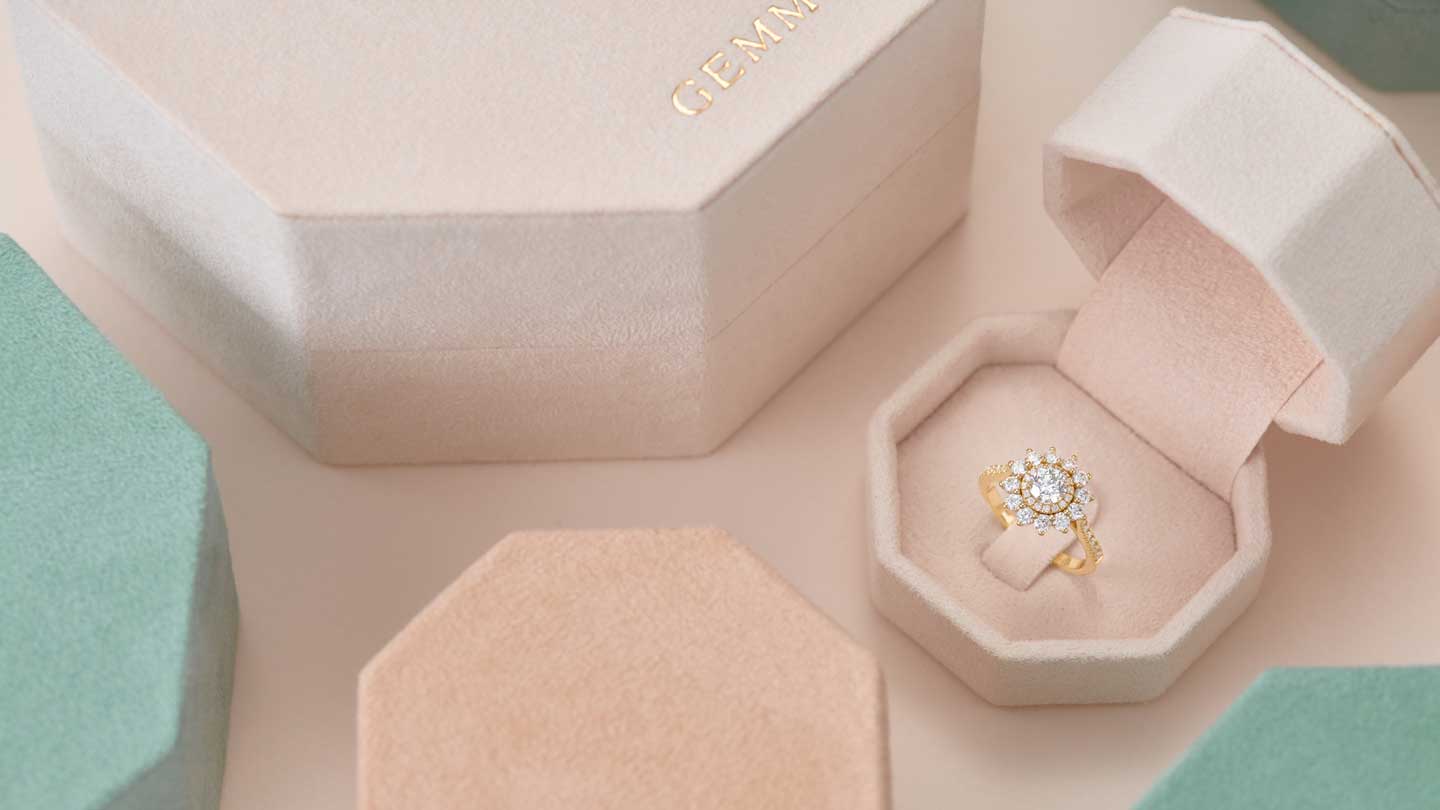 A double quality control
As soon as a piece of jewelry has been made, it is first subjected to a quality control in the workshop where it was made by craftsmen who are independent of the brand. It is then checked a second time by our quality team.
This double control allows us to ensure that the piece of jewelry is perfect before it is given to you.
What does this quality control look like?
- First, the control of the gemstones
Our gemologists inspect the gemstones in great detail to check the external and internal integrity of each stone, using a special magnifying glass with 10x magnification.
- Then, the metal inspection
The whole of the jewelry's setting is observed with a magnifying glass, called a binocular, in order to check that the metal shows no traces or scratches, which could have escaped polishing.
- Finally, a general inspection
Our specialists check the jewelry as a whole to verify its overall symmetry and more precise elements such as the resistance of the claws, the size or the correct execution of your engraving, if any.
If during this very strict control the slightest anomaly is spotted, the jewelry returns to the hands of our craftsmen to be corrected. No room for "good enough"!
Once this final check has been validated, the jewelry moves on to the next stage: placing it in a box.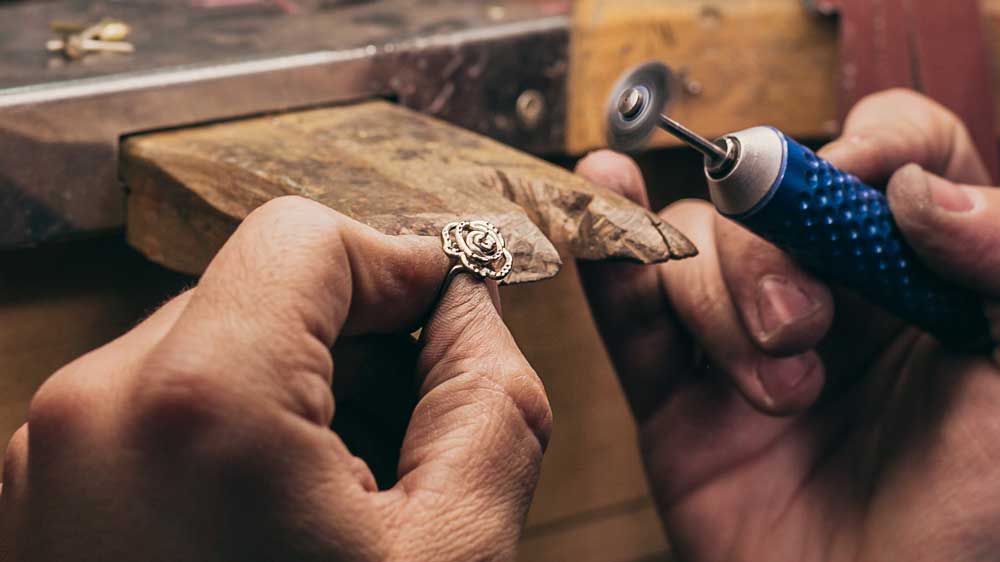 Encasing the jewelry
For all our jewelry, the encasing stage begins with the placing of a small satin ribbon on the frame of the jewelry.
Why a ribbon?
This ribbon is precious, it is there to remind you that it is essential not to wear the jewelry if its size requires a correction or in case of a request for exchange. A bit like a label on a piece of clothing, this ribbon does not alter the fitting of the jewelry in any way (we tested it!). On the other hand, it allows us to ensure that the jewelry is still perfect and can be put back on sale. So don't cut it too quickly :)
Once the ribbon is attached to the jewelry, it is cleaned one last time to remove any fingerprints and then gently placed in its case.
"This is a very special moment for us because, once the box is closed, we know that you will be the next person to discover the jewelry."
Elodie
Workshop Manager
Once the jewelry is placed in its case, it is prepared for shipping or for collection in one of our boutiques.
The final stage
The final stage
This final stage of preparation begins with the creation of the certificate of authenticity.
All our jewelry is sent with this certificate which details the chosen model with its stone and metal composition and indicates its unique piece number.
This document is proof of the quality of the jewelry and of its handcrafted production in France.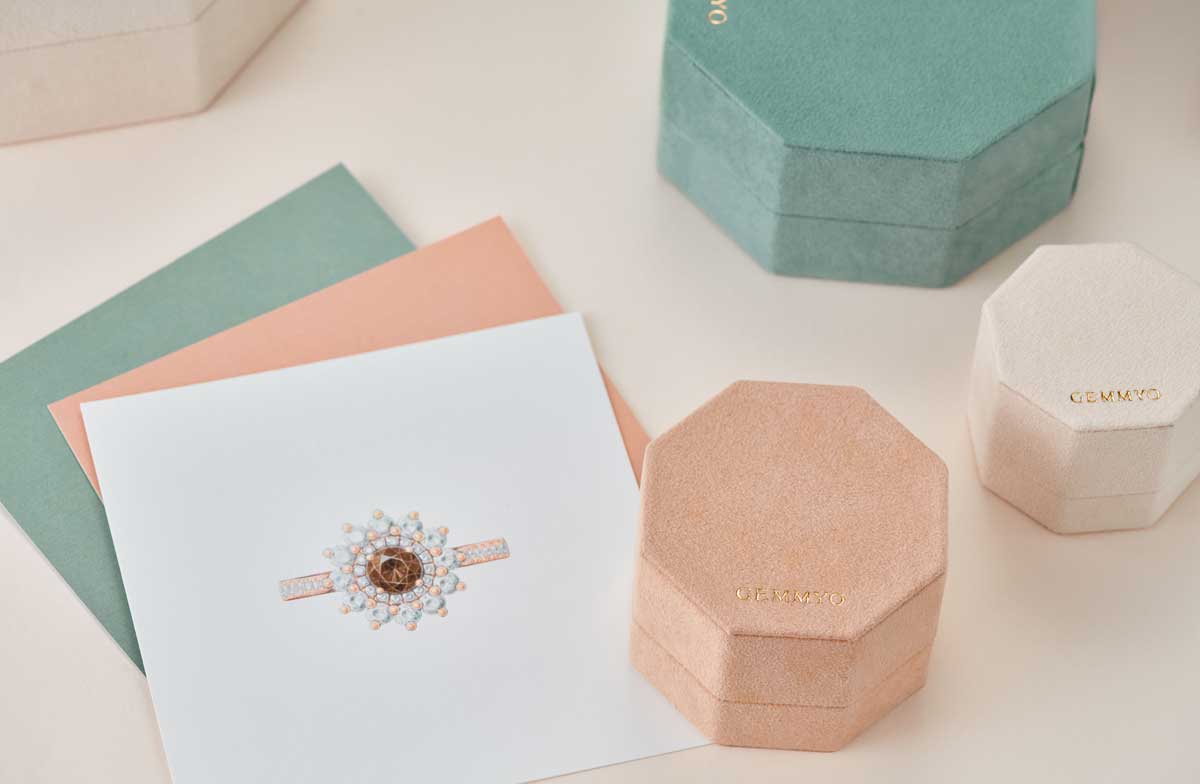 ——

Regarding diamonds

At Gemmyo, diamonds over 0.3 carat are accompanied by a certificate from the GIA or HRD, two internationally recognised diamond certification bodies.

What do these certificates contain?

All the main characteristics of the diamond, in particular its color, its facet, its weight or its purity, but not just these!

You will find on this certificate other more technical details such as the fluorescence, all the exact dimensions to the 10th of a millimeter or the quality of the symmetry of the stone.

Good to know

A GIA or HRD certificate is unique and, like a passport or an identity card, you are the only person to hold the original :)

You should also know that each certified diamond has a unique number laser engraved directly on the diamond, which you will find on the corresponding certificate.

Once the certificate is ready, the case containing the jewelry is placed in a specially designed box to ensure it travels safely.

We have therefore developed and designed a custom-made box so that the jewelry is firmly secured during transport to prevent it from being damaged.

It should also be noted that:
The package is completely unmarked for security reasons and to avoid revealing any surprises.

Gemmyo takes care of 100% of the insurance for the shipment of your jewelry.
——

One last detail

Orders can be accompanied by a personalized note!

How can you have one? Nothing could be simpler, you just have to specify the occasion for which the jewelry has been chosen when you place your order or before it is sent. We then attach a note for the recipient, whether it is a gift for you or a loved one.

Once the jewelry and its documents are in their box, the jewelry is ready to be sent!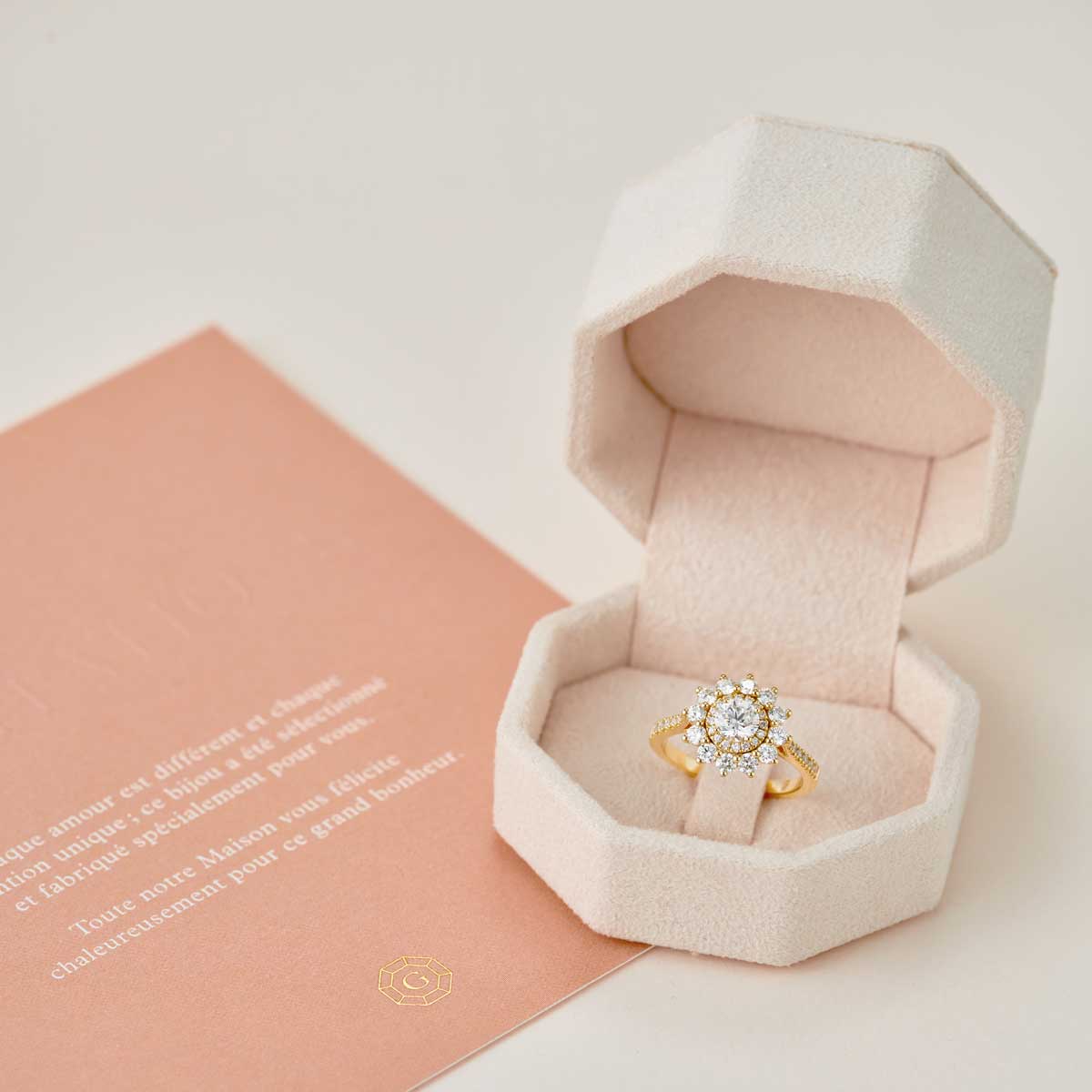 FAQs
——

"Is the box suitable for a marriage proposal?"

Rest assured, yes!

We have designed our box to be compact and easy to carry. It is therefore perfectly suited for proposing, as it is small and slips easily and discreetly into a pocket.

You should also know that the case is designed not to ring in an airport, we have thought of everything :)
——

"I'm going to propose, can I remove the little ribbon for the occasion?"

We understand that this is a very special moment but you should know that this little ribbon is important to ensure that you get the free size discount!

The ribbon is designed to be as discreet and elegant as possible and not to impact on the size, it is not there to annoy you, it is there to remind you to simply limit yourself to one fitting.

Why is this?

In the case of a resizing, all modifications are not always technically possible on the frame and so, in this case, we remake it entirely at our expense in the requested size.

We want to be there for you during these important moments so if you have any questions or doubts, please do not hesitate to contact our customer service.
——

«What are the dimensions of your box?»

We actually have three box sizes!

First, a case adapted to our ring models and most of our earrings, its dimensions are: 6 cm x 6 cm x 4.5 cm (L x W x H)

We also have a second larger case for our wedding bands, pendants and bracelets the dimensions are: 8 cm x 6 cm x 4.5 cm (L x W x H)

We have a last case designed for bracelets of ring type, the dimensions are: 9 cm x 9 cm x 4 cm (L x W x H)

It is also possible to receive a piece of jewelry in a small cotton suede bag, in very rare cases, if for technical reasons a piece of jewelry would not be sufficiently supported in our classic box.

If you have any questions about the size of our cases, please do not hesitate to contact us directly.
——

"I would like to add a 100% personalized note, is that possible?"

Of course! At Gemmyo, we are always happy to celebrate any occasion with you. If you would like us to add a 100% personalized note for you, please let us know when you place your order :)
——

"My order is due to be finished after the occasion, what should I do?"

As you know, we work in a traditional way and our production time outside of special periods is, 3 to 4 weeks at the latest.

We know that it is not always easy to anticipate this deadline and you should know that if you give us an imperative date, we will do our best to be on time.

Nevertheless, handcrafting takes time and we cannot always work miracles! So, for last minute gifts, we propose to send you a promise of a gift quickly if needed.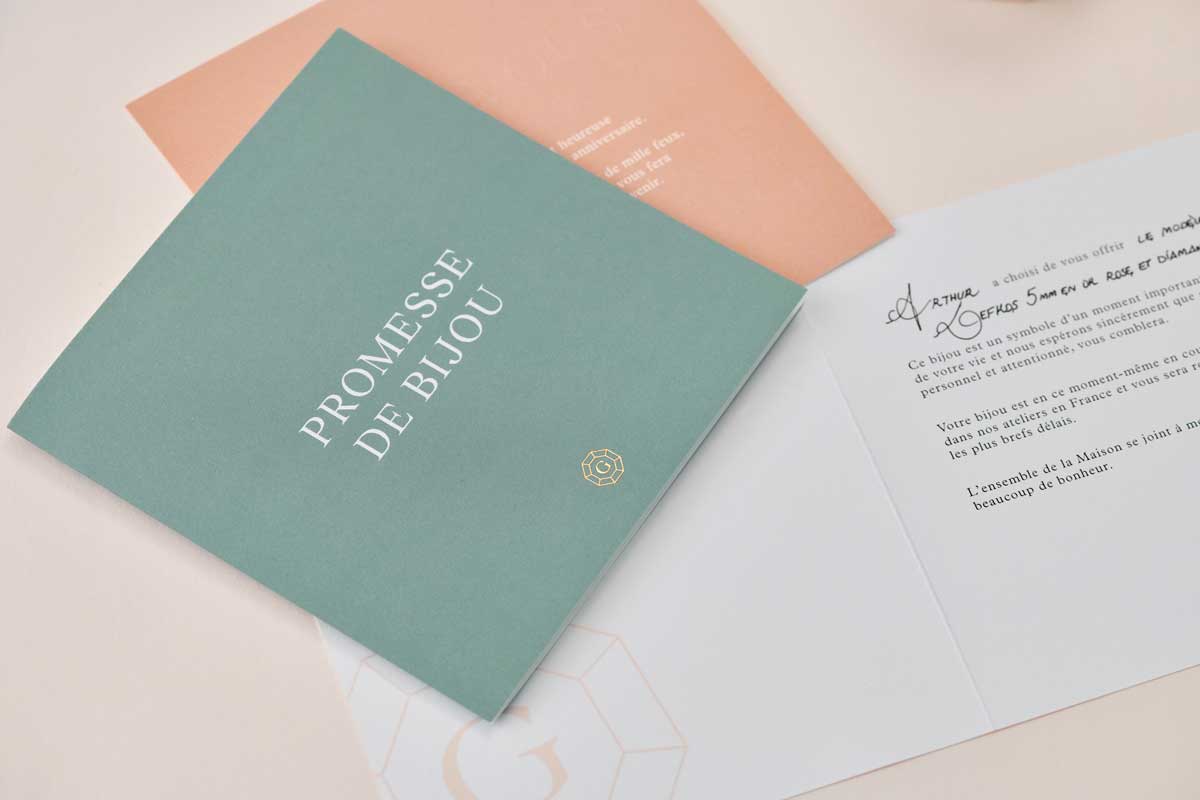 This promise will allow you to offer a certificate on the big day to keep the recipient waiting, who will then be even more eager to discover their jewelry... a few days later.
Finally, we also have a selection of jewelry delivered within 3 days, so you can be prepared for any eventuality :)